Moving can be so stressful!! Packing up every little bit of your life and transporting it to a whole new set of surroundings, but it can also be really exciting!! We've had quite a friends who've relocated recently~ We celebrated Naomi's new place with
ICE CREAM CONE CUPCAKES
and this cobbler was all about Natalie's big move!! Super hot temps made me crave something that was cold and refreshing, but if I'd made an ice creamy dessert it would have been all kinds of melty pretty quick! The late-summer early fall peaches and nectarines had been awesome, so peachy cobbler made perfect sense. Because the white peaches smelled incredible, I choose those, but to birghten it up a bit I grabbed a few ripe apricots and the mix was delish.
This could work with a variety of fruit combos, there will be an apple or apple-pear version coming soon, no doubt.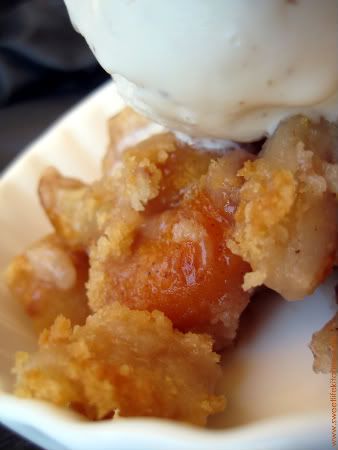 I had not really made a cobbler since last summer's
MIXED BERRY COBBLER
which was from "Baking From My Home to Yours" by Dorie Greenspan and it was MY pick for Tuesdays with Dorie!! This is my version of stone-fruit cobbler, so it is a lil different from Dorie's recipe- but I think it's delicious all the same~
Serves 12-16
5-6 ripe sweet peaches
4 apricots
1 tsp cinnamon
3/4 c white sugar
1/2 c shortening
1/4 packed light brown sugar
1/4 white sugar
1 1/2 c flour
2 tsp baking powder
1/2 tsp salt
1 c buttermilk
1 c boiling water
3 T butter
Oven to 350 grease a 9 x 13 baking dish
In large bowl combine the fruit sugar and cinnamon and set aside
In a medium bowl cream the shortening and sugar and slowly add the flower, baking powder, salt and buttermilk a little of each at a time until all ingredients are well combined.
Pour the batter into the pan and spread evenly. Pour the fruit over the batter and spread evenly. Melt the butter in the water and pour the water over the batter & fruit~
Bake for 1 hour 15 to 1 hour and 30 minutes.
Let cool and serve a bit warm with vanilla ice cream.