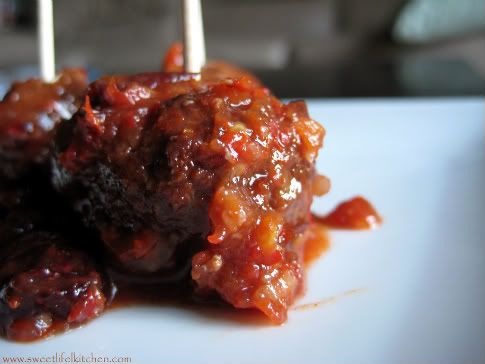 These are a holiday party staple around here, pretty easy to assemble and cost effective, I like to make a big batch because they go fast!! I made them for our annual "Ugly Sweater Party" this year and the next morning Nate used the few I'd saved for my blog photos to make an omelet with mozzarella, it was delicious!
Makes about 90 meatballs
3 lbs ground beef
1/2 cup minced sweet white onion
3 eggs
2 cloves minced garlic
a tiny dash of cayenne pepper
salt & pepper
1-2 T water
1 1/2 cups seasoned bread crumbs
3 jars of Lee Kum Garlic Chili Paste
3 15oz cans/containers cranberry relish (I use the chunkiest cranberry sauce I can find- Trader Joe's is awesome if you don't want to make it yourself)
4 1/2 T fresh squeezed lemon juice (about the juice of one large lemon- roll before cutting in half and juicing)
4 T Packed brown sugar
2 1/2 tsp of lemon zest
Pre-heat oven to 325
Mix the meat, salt, pepper, eggs, bread crumbs, cayenne, water, onion and garlic in a large bowl. Prep a cookie sheet by covering with foil and spraying with non-stick spray. Roll meat into small meatballs (smaller than walnut sized, about 1 T each). Lay balls on cookie sheet and bake for 8-12 minutes per side (turn over once half way through cooking).
In a large bowl combine garlic chili sauce, cranberry, lemon juice & zest, & brown sugar and mix with electric hand mixer until well combined.
Place cooked balls in a large pot and pour sauce over to combine gently mix until sauce is completely incorporated.
I always make these ahead~ so here are all the possibilities;
Make 2-4 days ahead and freeze; pour the balls and sauce into some disposable bakeware (like the big "Gladwear" for baking casseroles in)cover the balls wit a layer or two of Press n' Seal, and then the lid.
Remove from freezer and place on counter to defrost about 2 hours before cooking.
Pour into crock pot and cook on low for 4 hours.
Make the night before-Put the browned balls (once cooled) in the crock part of the crock pot- covered with press n' seal then the lid- and put the sauce in a Pyrex and refrigerated over night. For the party- Heat them in the crock on LOW for 4 hours, stirring every once in a while.
From oven to crock pot~ Combine balls and sauce, add to crock pot and cook on low for 3 hours, serve warm~