This is an absolutely party perfect recipe- that was super easy and totally delicious! I took these to a pool party over the summer and they were a huge hit. The great news is you can always make the pulled pork one day prior and refrigerate it, then you can prepare the little sammies the day of the party.
Here's what you'll need~
makes about 70 cocktail sammies
2lb pork tenderloin
2 12oz. bottles root beer
1/2 cup bbq sauce
2 pkgs refrigerator biscuits
mini-muffin tin
Each "grands" biscuit makes 2-3 mini samiches
Place pork and root beer in the crockpot and cook on low for 6-7 hours (so it is easy to fork apart and not dry). Remove cooked pork from crockpot with a slotted spoon, and place in a large bowl, add bbq sauce and fork apart to shred. Let cool and refrigerate 1 hour to overnight.
Open the package of biscuits and split separate the biscuits, use a little round cookie cutter to cut circles out of the raw biscuit dough. Pull the circle apart (in half, the layery biscuit dough comes apart pretty easily.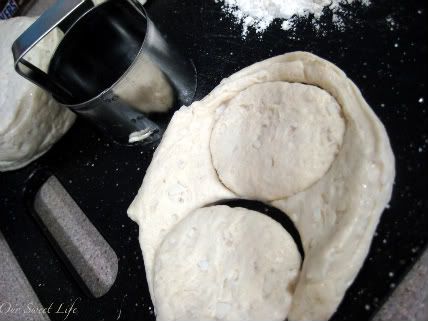 Grease a mini muffin tin with non-stick spray. Place a circle of biscuit in the muffin cup. Fork on some pulled pork, add a dab of bbq sauce and top with another biscuit circle.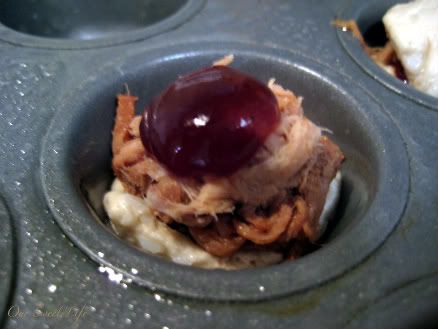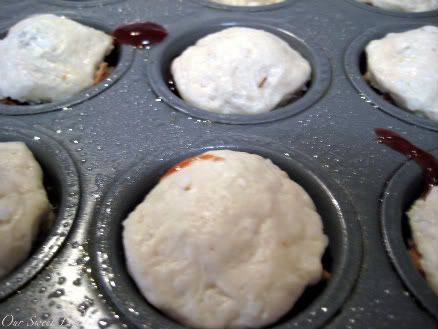 Cook on 425 15-20 minutes or until biscuits are golden brown.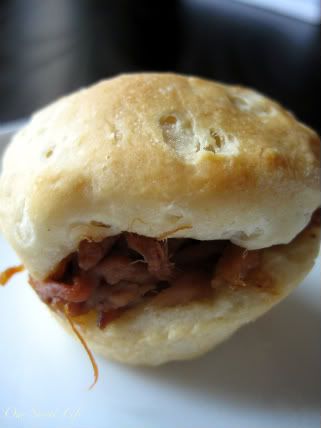 We've made this pulled pork before, and used the leftovers in a pulled pork omlette
HERE