Nate was excited about this pie all week. Who wouldn't be? I mean it's such a great idea, and sounded so delicious!! Pecan AND pumpkin pie all in one crust is what this weeks
TUESDAYS WITH DORIE
is all about. The selection for the Thanksgiving Holiday edition of TWD was chosen by Vibi of
LA CASSEROLE CARREE
. Click over to h blog to see the full recipe~ and be sure to visit the TWD Blogroll for tons of stunning, creative, delicious versions on this pie!
I found that I agree with Dorie's hubby on this one and liked it much better the second day after it'd been in the fridge.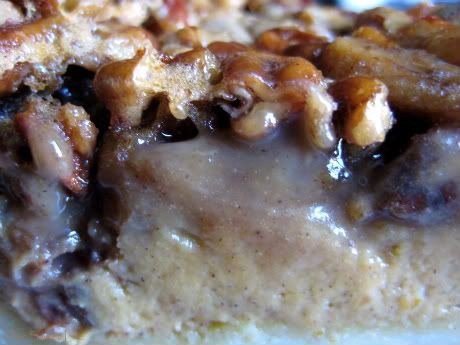 The next time I make this yummy holiday pie, I think I'll use my own pumpkin pie recipe for the bottom. I thought I was going to love the rum in the mix, but thought it was a little overpowering and wanted it to be more traditional pumpkin-pie-y.
I'd had this recipe marked since the day I bought this book and had a great time making it.