We're calling this Braciola I, because I anticipate there being Braciola II, III, IV, V, and so on....Where the heck has Braciola been all my life?!? I'd never had it before but heard of it last year at L.A.'s Feast of San Gennaro (which we just attended again this year, but couldn't find any braciole there)
I did some research and Braciola, or Braciole, plural (pronounced BRA-Sh-OLE)can be made many ways and depending on where the person you are talking to is from.
Per what I could find by poking around the internet and making a few calls to family members- this recipe would be classified as mainland-Southern-Italian Braciola. Which is, essentially, flat steak spread with cheeses, herbs, etc (that etc means what ever you can think of) and either fried, browned/baked, or browned then finished cooking in a big pot of sauce (that's the version you'll see here next time....)
For my first Braciola, I went with cheese & herb filling.
Serves 6
Steak~
2 lb flank steak
1/4 cup ricotta
1 small handful grated Parmesan
1 handful shredded mozzarella
2 cloves finely minced garlic
1-2 tsp each fresh chopped, basil, oregano and parsley
1/2 cup bread crumbs
String for tying it up (from a cooking supply store)

A MEAT NOTE:
If you are able to go to the butcher and have them cut the flank steak as thin as possible, that is awesome.
Sauce~
(you can totally buy a jar of your favorite sauce or doctor this one any way you like it is a very basic recipe that can be jazzed up a zillion ways)
1 can 15 oz tomato sauce, then one can full of water
1 12 oz can tomato paste, then one can full of water
1/4 cup shredded Romano cheese
2 T chopped garlic
2 T fresh chopped basil
1/2 tsp sugar
a few dashes red chili flakes
a pinch of salt and some fresh cracked black pepper
A little garlic powder (lightly sprinkle over the top of the pot and stir)
Olive oil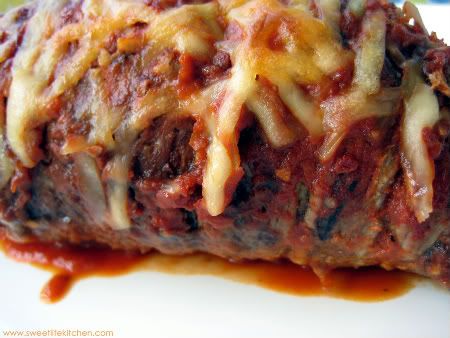 In a large sauce pot pour the tomato sauce, water,tomato paste, water and stir over medium heat until smooth add cheese, herbs, spices, salt & pepper, continue to stir until all ingredients are incorporated and then continue on medium heat until simmering. then reduce heat to low and stir occasionally while sauce cooks and thickens for about an hour.
After the sauce has been on low for about 45 minutes, start making the Braciola.
Use a meat tenderizer hammer to pound the steak a bit flatter if you buy it prepackaged and don't have the butcher slice it extra thin. In a medium bowl mix the filling ingredients- spread them all over the center of the steak and roll it up like a jelly roll! Secure it with 5 pieces of the string and tie tightly.
In a large pan heat a few tablespoons of olive oil on low(enough to lightly cover the bottom of the pan). Using tongs add the braciola to the pan and turn every 90 seconds browning all sides of the steak. (about 8-10 minutes total)
Preheat the oven to 350 and spray a baking dish with non-stick spray. Turn the heat off the sauce and let stand 5 minutes while the oven preheats. Add the browned braciola to the baking dish and ladle a few cups of sauce over the braciola- top with a little shredded mozerella (if you are using a jar of sauce- use one whole jar here, but have another jar on hand for serving it with.
Cook for about 1 hour and 30 minutes for "medium" a little longer if you'd like it well done.
I have to say, this was a very impressive meal with very little effort involved. The prep time is not too intense and the flavor is off the chain delicious.
This is an EXCELLENT dinner-party main dish. I made a giant salad to go with this and we ate it while watching football. Kelle brought amazing bruschetta that I ate way too much of!
I think think this would be a spectacular main dish for a dinner party of 6 people, here is a menu I would suggest that would be very easy to execute and a for sure hit with your guests...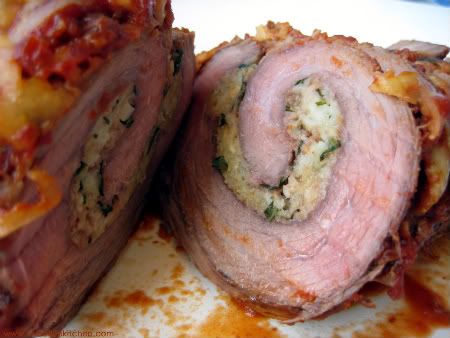 Dinner Party Menu:
~Plated Appetizer~
Caprese Towers
Stack a1/2 inch slice of tomato, 1/2 inch slice of mozzarella, fresh basil leaf- repeat, dust lightly with cracked black pepper and drizzle with olive oil.
~Main Entree~
Braciola (or make individual Braciole with smaller pieces of steak!!) w/ garlic bread & steamed veggies and
GLORIOUS SALAD
, sub the spring mix with baby arugula to dress it up a bit!
~Dessert~
Raspberry Semifreddo