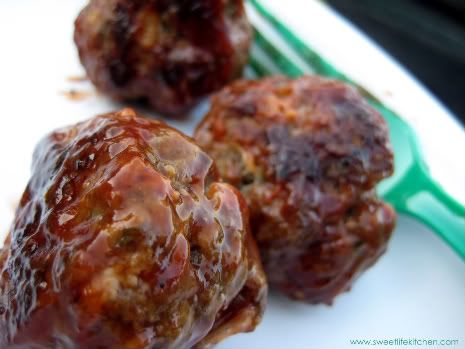 Bison Balls. YUM. These are deeeelicious. Bison is a lower-fat, super awesome alternative to ground beef for burgers, meatloaf and in this case, meatballs. Another of my Hollywood Bowl tote-along-menu...these were easy to carry in a pyrex and make a terrific picnic-tailgating-bonfire summer treat!
Nate used this recipe recently and gave it his own twist to prepare a Bison Grilled Meatloaf, which we'll get posted soon!!
BBQ Bison Meatballs
(makes about 12-15 balls)
1 lb ground bison
1 T bbq sauce
1 T spicy brown deli mustard
Heaping 1/2 cup bread crumbs
1 egg
a few tsp parsley
1/4 of a sweet white onion finely chopped
few good shakes of each:onion powder & garlic powder
Kosher salt & fresh ground pepper
bit o chili flakes- just a pinch...
Preheat the oven to 400 and cover a baking sheet with foil (spray it with non-stick spray)
In a large bowl combine all ingredients and mix well using your hands.
Roll the mixture into balls about 1 1/2 inches in diameter and place the balls on the baking sheet about 1 inch apart.
Cook 7 minutes, then turn the meatballs over~ cook 7 more minutes, flip them again to a different side and cook 5 minutes... turn off oven and let the balls sit in there about 3-5 more minutes.
Let the balls cool and place them in a lidded container...squeeze some more bbq sauce into the container, put the lid on- shake it up- and refrigerate, serve em cold.