On summer Thursdays in LA we gravitate to the Santa Monica pier for picnic dinners and some outside week-night relaxing, sad to see it coming to a close, I will cherish these evenings in the sand eating dinner with friends. This year, on September 9th, 2009 the pier will turn 100 years old and we'll be down at the beach watching the fireworks and eating dinner on the sand one more time before we head full force into fall, football and snow (boarding for Nate, skiing for me!)...
A few weeks back when I took the
PICNIC CHICKEN
to the pier, I also attempted to pay tribute to a family tradition of a favorite girl. My friend Natalie has a mom that knows what is up in the kitchen. I mean it, and you KNOW what I am takin' about. They have spectacular get-togethers and after one of those, Natalie brought in some leftovers of a pasta salad that was awesome, and I'd never had anything like it before!!
It had everything rockin and can feed a big group of hungry fun-having friends with out spending a zillion dollars.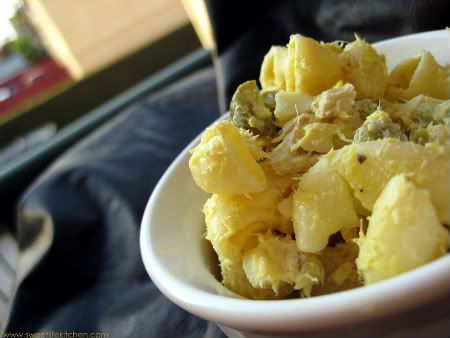 This should be called Tribute to Mama Corrado Salad, because although Natalie & Naomi gave mine the thumbs up, I had the real deal again this past weekend and I think because I 1/2'd the recipe mine was not quite the same...I'll go full batch next time and tote this yummy pasta, tuna, egg salad down to the Coliseum to chow on before we watch the Trojans win some football!! WOOHOOOOO!
1 regular sized bag Macaroni pasta
4 8oz cans Tuna
8 Hard boiled eggs, chopped
4 ice cream scooper scoops of Mayonnaise
1 ice cream Mustard
6-8 Chopped sweet pickles (I used 12 cornichons)
1 can of sweet peas
salt & pepper to taste
Bring water to a boil in a large saucepot. Cook macaroni about 9 minutes or until cooked a bit aldente (you don't want it overcooked and mushy!)Drain and cool pasta.
Mix the macaroni, tuna, eggs, sweet pickles, peas, salt and pepper together in a large bowl. Add the mayo and mustard, and mix until everything is incorporated. Refrigerate at least 4 hours.
Bookmark this on Delicious