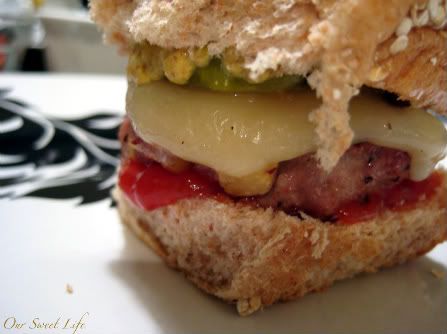 Every once in a while there is a Thursday night college football game that we all RACE home from work to watch, and this meal was perfect for one of those nights! The game started at 6pm and we were having 8 people over, so since I get off work at 5 and have a 30 minute drive, this needed to be something easy, yummy and that would count as dinner for everyone.
These Turkey Burgers combined with the mini-baked taters (coming soon) were perfect, and totally reasonable budget-wise!
Makes 8 Mini Burgers
Kings Hawaiian wheat buns
1 lb lean or extra lean ground turkey
1 Apple, cored and chopped
1/4 sweet white onion chopped
1/3 cups Bread crumbs
1 T. Worstecire sauce
pepper, salt, garlic powder to taste
Swiss cheese
In a medium bowl, using your hands, combine the turkey, apple, onion, bread crumbs, worstecire sauce, salt, pepper and garlic powder. Form 8 small patties.
Grill over medium-high heat for about 7 minutes per side, flipping once or twice.
Add Swiss & turn off heat, put buns on the grill to toast close grill and let cheese melt & buns toast.