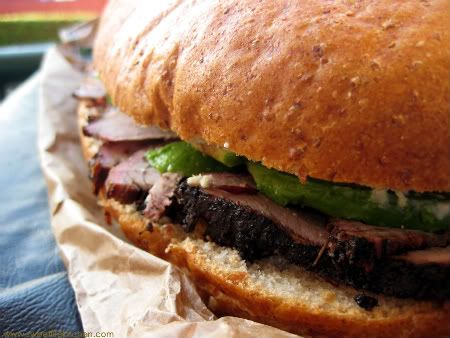 Sometimes it's all about an AMAZING sandwich, or samich, as this particular recipe creates.
With Fall right around the corner, it's time to start planning our tailgating menus and Sunday afternoon football party feasts! Nate suggested this for last Thursday night's pier picnic dinner and we were all very grateful for his inspiration.
This is very easy to put together, the flavor is off the chain and you can feed a good sized group with out seriously breaking the bank. So...be sure you add this bad boy to your Fall get-together menu and HAPPY FOOTBALL SEASON EVERYONE~
This makes 2 Giant Samiches, each samich feeds about 6-8 adults
1 tri-tip (about 2 lbs.)
tri-tip rub*
2 large loaves French bread
1 batch of garlic aioli**
4 avocados
1 sweet white onion
the best balsamic vinegar you can find (my favorite is from Joan's on Third, 18 years old- thick- almost sweet- and beyond delicious)
Tri-Tip Rub
In a small bowl mix equal parts (a few tablespoons)Kosher salt & cracked black pepper, then add in a few teaspoons garlic powder & onion powder, throw in a pinch of cayenne & 3 cloves minced fresh garlic.
Garlic Aioli
3 cloves garlic
1 raw large egg
1/2 cup olive oil
Juice from 1/2 a lemon
3 T. mayo
a pinch of salt and a little bit of cracked black pepper
In a food processor, blend the garlic, egg, lemon juice salt and pepper. Slowly add the olive oil and continue to process. Once all the olive oil is added process about 1-2 minutes, add mayo, then process another 30 seconds- 1 minute and transfer to container with a secure lid, refrigerate 1 hour.
Slice the onion and throw it in a saute pan on low heat with a few tablespoons of olive oil. Continue to stir the onions occasionally and saute on lowest heat for about 45 minutes, until they are all caramelized and gloriously golden looking. While you are caramelizing the onions, grill that tri-tip! Trim off any major excess fat, if it is not already pretty trimmed. Rub it with the spice/garlic mix and toss it on the grill (on medium heat), for about 45 minutes flipping 2-3 times until the internal temperature is about 140-150 degrees, cook longer if you'd like it more medium to well done.
Let the tri tip cool completely, when the onions are all caramelized, set them aside to cool completely as well.
Slice the tri-tip thin for stackin on the bread. Slice the avocados (you'll use two avocados on each samich). Slice the French bread open lengthwise. On the top half of each loaf, generously slather aioli. On the bottom layer lightly drizzle the balsamic vinegar (if you are worried about the steadiness of your hand and don't want to annihilate the bread by accidentally dumping the bottle, pour it in little pours into a large spoon and use that for drizzling.)
Layer caramelized onions on the bottom half of each loaf, over the balsamic, then layer the tri tip over the onions. Top the tri tip with avocado slices and top with the aioli'd top half of bread. SHIZAM- awesome, amazing samich perfection.
Slice each according to how many folks you've got coming to grub down and what else you may be serving on the side...(two great side-suggestions comin ASAP!! Keep ya posted)