Bison is a great substitute for ground beef...it's lower in fat and cholesterol and tastes awesome!! I made some really delicious
BISON MEATBALLS
to tote with us to the Hollywood this summer, and not too long after that, Nate whipped up this bison meatloaf on the grill~ it was sensational!! This is a good easy-weeknight dinner to make while the weather is still grill-friendly. One bowl, one thick foil packet, and then you could even eat on paper plates if you aren't in the business of doing dishes this week!!
It's hard to believe that the summer is past and that it's back-to-school-time all over again! I will be adding a "Weeknight Dinner" label to some simple but very yummy dinners that will help everyone get back in the back-to-school swing of things. Just because the days literally start getting shorter and there is so much more stuff to get done, doesn't mean you shouldn't have an awesome dinner!!
Keep a package of Hawaiian rolls in the freeze, they'll last you more than a week and you can just toast em up as a side item, easy-peasy!
Another great option is making a big batch of brown rice at the beginning of the week (or on Sunday) and keeping that to heat up necessary portions with out the prep work!
Here is a fun twist on a comfort classic, for a healthy veggie side item chop up a bunch of cauliflower and peel 3-4 cloves of garlic. Lay out 2 layers of foil (enough to fold up around the cauliflower and garlic. Add a little bit of chopped up butter (less than 1 T.) a pinch of salt and some cracked black pepper...put this foil on the gril at the same time as the meatloaf and when it'd done, mash all packet contents with a potato masher~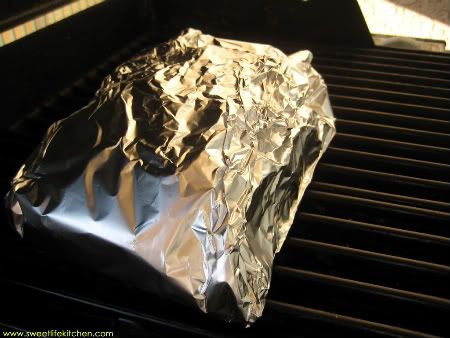 Onto the MEATLOAF~
1 lb ground bison
1 T bbq sauce
1 T spicy brown deli mustard
Heaping 1/2 cup bread crumbs
1 egg
a few tsp parsley
1/4 of a sweet white onion finely chopped
few good shakes of garlic powder
Kosher salt & fresh ground pepper
bit o chili flakes- just a pinch...
1 carrot sliced in coin slices
1/2 bulb fennel, chopped up.
3 zucchinis for a side dish, if you want...
In a large bowl mix bison, bbq sauce, mustard, bread crumbs, egg, parsley, onion, garlic powder, salt, pepper and carrots.
Lay out 2 big layers of heavy duty foil in a + formation. Heat the grill to medium heat.
Form the meat mix into a loaf and place in the center of the foil, surround the loaf with fennel, top w bbq sauce, wrap up and grill on medium heat for about 40 minutes.
When the meatloaf is almost done slice a few zucchinis thinly length wise and lightly butter each side and lightly salt & pepper each slice. Grill 2 minutes each side.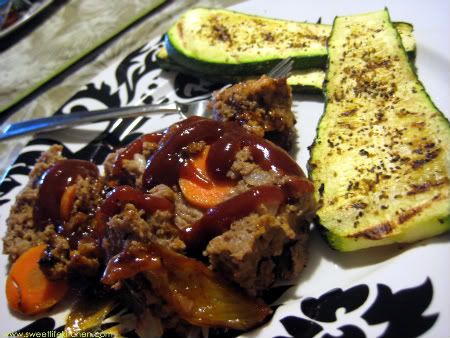 Don't forget Sweet Life Kitchen's FIRST GIVEAWAY EVER!!!
~CLICK HERE for DETAILS~