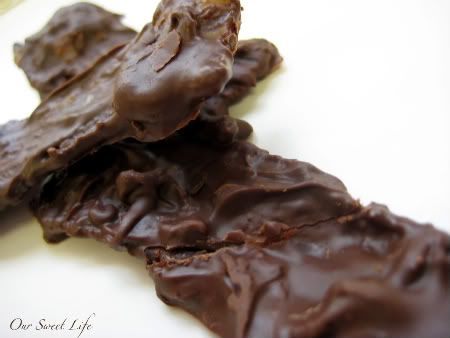 So, I don't exactly remember where we were or how it came up, but Nate said he wanted to try making chocolate covered bacon one weekend. I thought, why not? It's sweet and salty and I do love both of those things, so why not TOGETHER.
Nate bought some bacon and a big bag of chocolate Kisses (we used a few oz. of the baking chocolate I had on hand too, because we were at a crossroads on the milk vs dark chocolate (I was pro-dark)...
We make bacon in the oven, as I've mentioned in previous posts. It's always crisp and perfect and makes much less mess because you just let the grease cool and throw the foil away!
Oven Bacon
Pre-heat oven to 350
Cover a baking sheet (that has edges/sides to it, not totally flat) with foil. Lay bacon out side by side down the sheet. Bake for 15-20 minutes or until it is perfectly crisp, but not singed.
Remove bacon with tongs and place on paper towel covered plate, cover with additional paper towel to remove grease and let cool.
Chocolate~
Heat water to simmering in a medium sauce pot. Place the chocolate in a smaller pot and place the bottom of the smaller pot in the water, cooking the chocolate, stirring gently constantly.
Remove chocolate from the heat once it is completely melted.
Get ready to make a chocolate mess.
Dip the cooled bacon slices in the chocolate, coating completely.
Lay bacon on a cool cookie sheet covered in wax paper and refrigerate at least 1-2 hours before eating.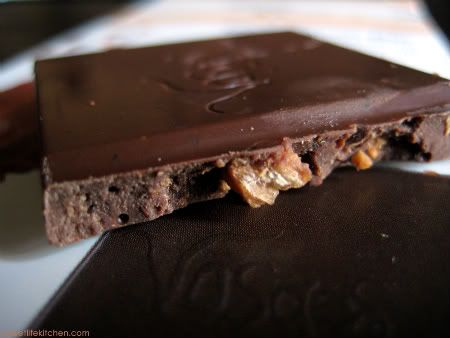 When we started talking about this mixture I was give several Vosges chocolate bacon bars (pictured above) I highly recommend you check these out.
I also really like the Red Fire Exotic Candy Bar and the Black Pearl Exotic Candy Bar, but I am sure they are all super fabulous~ and I love giving them as gifts or part of a gift. Fun, creative and delicious!!
Click HERE to check out VOSGES
We made this, I brought it to work (only one brave taker that was totally down with it.) Then a friend emailed me in shock from her office because someone had brought it in there! Like the same week!!
I had to Google it after that and found it is not such a strange thing after all...I am guessing there will be more "experiments" along these lines to come~
I also found these SERIOUSly amazing looking cupcakes over on A Good Appetite blog~
DARK CHOCOLATE BACON CUPCAKES
These are on my must try list~