I've been DYING to BBQ. We use our grill all the time, but I wanted to make something that would be messy, delicious and super-bbq-y! Nate and I were in Huntington Beach so we decided to stop at Plowboy's. Seriously, if you live with in a reasonable distance to Plowboy's- get over there ASAP!! Amazing produce at great prices and the best butcher ever. We did not go in with a plan, other than my plan to get a sky-high samich at the deli. As we walked along the long meat cases we tossed some ideas around, but in the end the ribs looked too good to resist.
When we got home I gathered up the dry ingredients to make a yummy rub and learned all about preppin the pork. (read below). This was not too difficult and was WAY BEYOND delicious.
Sweet Life Dry-Rub Grilled Ribs & Homemade BBQ Sauce
serves 2-4 (depends on your hunger level, Nate is a whole rack man on this one)
2 full racks of pork baby back ribs
Dry Rub~
6 T brown sugar
2 T paprika
5 tsp kosher salt
2 tsp salish (smoke) salt
2 tsp garlic powder
1/2 tsp cinnamon
1/2 tsp cayenne
5-6 twists of cracked black pepper
Homemade BBQ Sauce
2 T butter
2 slice (just under an inch thick) of sweet white onion, finely chopped
1 12oz can tomato paste
3 tsp mustard
6 T white vinegar
2 T Worcestershire sauce
4 T molasses
2 T DRY RUB mixture
6 T water
2 T brown sugar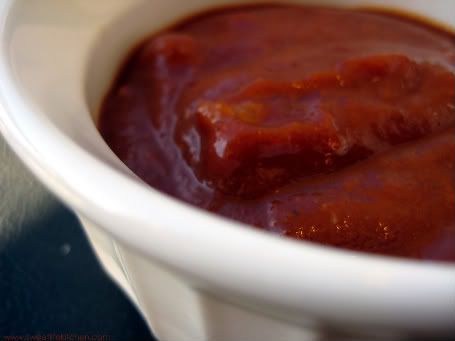 Removing the membrane~ ok, don't freak out. I know you may be reading that thinking W T F? Well it's really no big deal, and if you remember while @ the butcher, I reckon you can just directly ask to have it pulled right off, right there. In any event if you buy the ribs, get home, whip up a dry rub and then read about said membrane that you never realized existed, then here's what you do....I watched this video on YouTube courtesy of BarbequeWeb.com, and it was pretty easy to do!
CLICK HERE TO WATCH
There...that wasn't so bad, was it? OK, now I just set the ribs aside on the paper that the butcher wrapped them up in bony side down. In a medium bowl mix the rub ingredients with a fork and set aside 2 tablespoons to use in the sauce.
Using your hands work the rub over every inch of ribage.
Wrap them back up in the paper and refrigerate 2 hours to all day.
Now, make the sauce!
In a medium sauce pan over low heat combine all ingredients and stir until everything is mixed in. Pour into a jar or other sealed container and refrigerate until it's time for ribs (this will really get the flavors well-combined)
Heat the grill to medium-low (about 300-325 degrees). Place the ribs, bony side down on the pre-heated grill, close the lid and let the magic happen. That's all you need to do to those. Grill them at about 300-325 degrees for 2-2 1/2 hours.
Take those smokin' delicious ribs off the grill and let them rest on a cutting board for about 7 minutes.
Mop them with sauce, cut them if you would like to and get a big pile of napkins, because you're gonna need em.