Ok, there has been many a dinner recipe here lately, so I thought I'd mix it up, and sweeten it up a bit! This is a light and almost cake-y muffin that has a very mild flavor so it is really all about the blueberries! I added just a small handful of the chocolate chips for fun, but not too many so they took over the blueberry-yumminess. I think these would also be excellent with the addition of a bit of lemon or orange zest~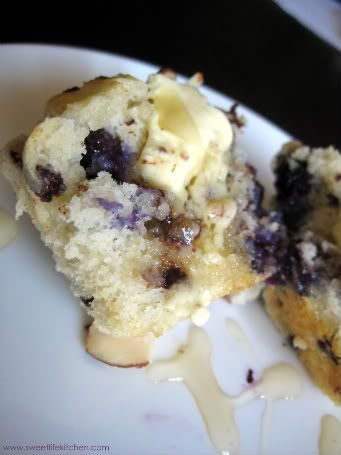 Makes 12 giant, 18 medium muffins
1 C. Milk
1 egg
1/3 c veg oil
2 cups flour
2 tsp baking powder
1/2 c sugar
1 T. brown sugar
small pinch of salt
1/2 cup fresh blueberries
1/4 cup/ one good sized handful mini chocolate chips
slivered almonds to sprinkle on top
Pre-heat oven to 400 and line a muffin tin with paper liners.
In a medium bowl sift the flour, baking powder and salt-set aside.
In a large bowl, blend the egg, oil and milk until mixed.
Add the sugars and mix for 10 seconds
Using a spoon or spatula slowly stir in the dry ingredients, but don't over-mix, just get all dry ingredients incorporated into milk/egg/oil/sugar mix.
Fill muffin cups about half full and bake for 20-25 minutes.
Let cool 5 minutes in the tin and sprinkle with raw almonds then move muffins to a cooling rack.
I love blueberries with honey, and these are very mildly flavored muffins, so you get a lot of blueberry goodness- I put some butter and honey on these and LOOOOVED it~