You really can never have too much of a good thing. We'd purchased some garlicy Jalapeno Mustard at last weekends Garlic Festival, and I'd been craving burgers all week. This would most def work with fresh chopped garlic, but sometimes after a extra long day of work, you just don't feel like choppin', ya know? I keep Christopher Ranch chopped garlic (from GILROY!) in my fridge at all time, it was fun to see their big presence at the festival. Being way too tuckerd out to get too crazy in the kitchen, we used what we had on hand and made a super delicious, garlic-tastic burger.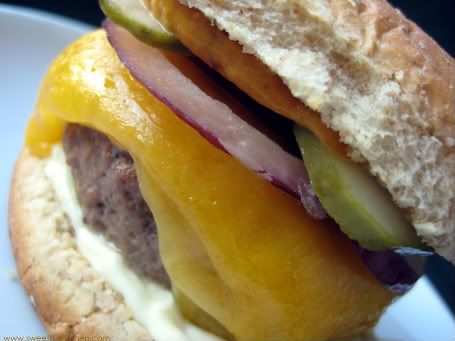 4 Garlic Burgers~
1 lb ground beef
2-3 T minced garlic
1 T Jalapeno Garlic Mustard (or go with a spicy deli mustard)
Fresh cracked black pepper
Garlic Salt
Kosher salt
Sharp Cheddar cheese (that's what we had on hand- I would also recommend this with a pepper jack or any garlic-cheese you may run into!)
More mustard & some red onion for the bun
BUNS
Mix all of the above in a medium bowl while you heat the grill (med-high heat).
Form the mix into 4 patties and put em on the grill. We used Nate's 4 flips/no squeezin method (this makes ULTRA JUICY burgers). Grill them 5 minutes after you put them down, then flip and grill 4 minutes on the other side, flip again and grill 2 minutes, flip one more time and grill 1-2 minutes.Do not use the spatula to PRESS down on the burgers at any point while grilling, just flip em gently. Turn the heat off, add sliced cheese, put the lid on for about a minute until cheese gets a little melty.
Serve on toasted buns with some spicy mustard and thin sliced red onion, if you have some time this is a simple
GARLIC AIOLI
that would be brilliant, or just stir 1 T of the chopped garlic into 2 T of mayo before mixing the meat and refrigerate and use that spread on the bottom bun.