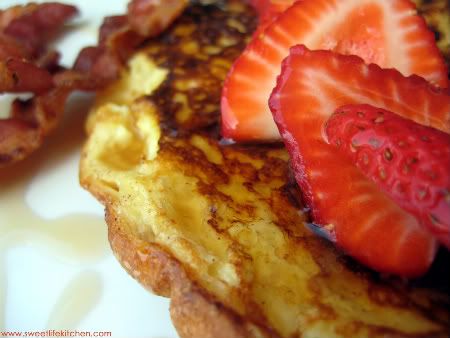 We had this at Lia & Jeff's on the morning after 4th of July last year and talk about it all the time. This is a great way to kick off the weekend, which is exactly what Nate did. After a dear friends 30th birthday celebration last Friday night, I needed a little food-therapy Saturday morning to recover! Nate headed off to the store with my single request, "Get some fruit!". He returned and busted out this delicious French Toast w/ a little bacon on the side!
Serves 4
Loaf of King's Hawaiian Bread (you won't use the whole loaf)
3-4 eggs
1/2 cup whole milk
small pinch of cinnamon
1-2 tsp brown sugar
Strawberries
Syrup
Slice 4 pieces of the loaf about an inch thick. Heat a large non-stick skillet or griddle to medium/medium-high heat. Whisk the eggs, milk, cinnamon & sugar in a shallow bowl. Dredge each slice of bread in the egg and toss em on the griddle! Cook until the bottom is golden, 3 minutes or a bit more...then flip em and do the same on the other side!
Then slice up a few strawberries and drizzle with syrup! (you can sprinkle with powdered sugar if you want, but they were sweet enough just like this too!)
I love this served with chicken apple sausage, but anything to add a little salty breakfast goodness, like bacon or ham is a delicious addition.