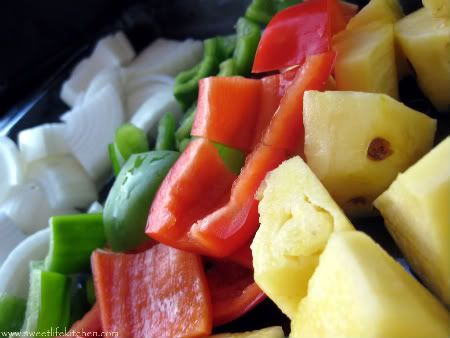 Here is another perfect picnic staple. We have been spending the last few weeks dining out doors pretty often and have a few more picnic dinners before the summer fades to football! But then...there's FOOTBALL!!! I am already plotting my opening weekend tailgate menu and we are all very excited to be back at the Coliseum for another winning season~ GO TROJANS!! Ok, back to kabobs~ these are great for a summer bbq, pool party, tailgate AND easy enough to make a fabulous work-night dinner, with out a major mess. (mmmmm less-mess, my favorite!!)
This made 7 all meat kabobs and 8 pineapple veggie kabobs
1.75-2 lb London broil, cut into 1 to 1 1/2 inch cubes
1 sweet white onion
1 pineapple
2 green bell peppers
1 red bell pepper
Marinade
1/3 soy sauce
2-3 tsp fresh grated ginger
3 chopped green onions
3 T teriyaki sauce
Combine the cubes of steak and marinade ingredients in a bowl~ mix, cover and refrigerate for about an hour.
Soak bamboo kabob skewers in water for about 1 hour (while meat marinates & you chop the veggies & pineapple)
Make all-meat skewers with the beef, and then make all veggie-skewers with the veggies!
Grill all skewers for 8-12 minutes flipping every few minutes to grill on all sides, leave the meat on an additional 4-6 minutes for medium-well to well-done kabobs.
Remove meat and veggies from kabobs and serve over steamed brown rice drizzled with soy or teriyaki sauce.