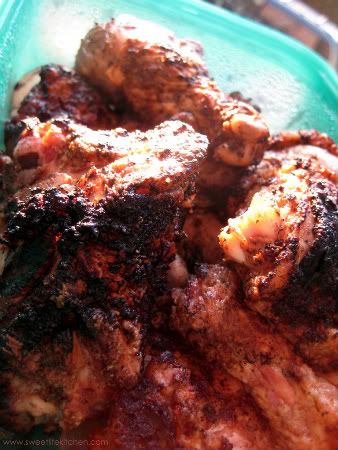 Sometimes you just want COLD grilled chicken, especially on a beautiful summer night while picnicking at the beach. This was absolutely one of those occasions. In Santa Monica for the past 21 summers, there are free concerts down at the pier every Thursday! Seriously!! So living about 7 miles from the pier in Culver City, we've been biking down there the past few weeks and enjoying some fun time outside and doing one of my favorite things in the world- eating dinner on the beach! It's incredible to be able to be on the sand, on a weeknight, with our friends just taking in the summer. I like cold picnic chicken because it's a make ahead basic, super-easy recipe.
Nate came up with a slightly spicy, super savory dry rub recipe that was really delicious!
We grilled this chicken the night before and it chilled in the fridge the whole day of the picnic, which was perfect for us!
Picnic Chicken
1 package chicken drumsticks and thighs (our store had a pkg with about 12 pieces total)
Shimmy shake these items over the chicken, to lightly coat the skin and massage in~
Paprika
Garlic Powder
Onion Powder
Sea Salt
Black Pepper
Chili flakes (a lil'pinch on each side of the chicken)
Heat the grill to medium high heat and place the chicken on the grill, let it cook 6-8 minutes, then flip and grill another 6-8 minutes, flip again and cook 5 minutes. Then flip again, turn off the grill and cover with grill lid. Let sit for 5 minutes, remove from grill let cool then serve or refrigerate for taking off to the beach for a picnic later!!