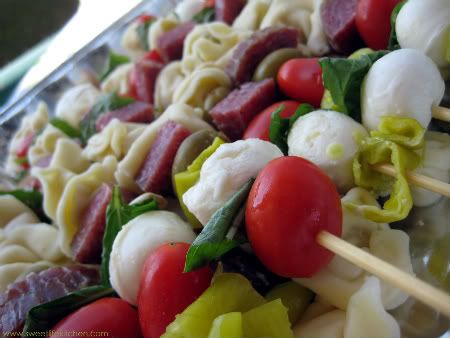 This has to be the perfect party food...well, I suppose anything on-a-stick would fit into that category..but nonetheless these travel well and are super-delicious!
I saw these at the Hollywood about a month ago, when we brought the bison meatballs & broccoli salad. The family in front of us busted out Tortellini-Kabobs and I flipped out!
I decided that I HAD to make my version of that for our next trip to the bowl...time came for Reggae Fest and Nate and I hit the store together to gather the bits for these kabobs~
Tortellini was the one must, everything else was open season on yumminess...
The possibilities are endless here, and if I'd not spent the morning of this Bowl Sunday watching Julie & Julia with my mom & sister, I would have busted out some mini-homemade meatballs for these scrumptious sticks....next time!
This will make 20-30 kabobs, there may be some leftover bits of one or more ingredients, but they are all pretty good leftovers to have and whip up a good dinner with the next night!
2 containers mozzarella balls
1 large pkg cheese tortellini, boiled drained and cooled
1-2 small packages grape tomatoes (there a lil smaller than cherry tomatoes, which would also work just fine)
A jar of whole pepperoncini, chopped into strips
1 pkg fresh basil
1 10oz Italian dry salami cut into 1/2 inch thick slices, then cut into 1/4ths
1 jar of garlic green olives (either garlic stuffed or a jar with both garlic cloves and olives in it)
(you can kind of go nuts here, sliced pepperoni would be good, fold up and skewer...
you could cook and cool Italian sausage, mini-meatballs...anything you can think of!)
Just start alternating ingredients as shown in the photo~
Then place on a serving tray, or in our case in a foil tray that we could tote to the bowl...and drizzle with olive oil and sprinkle with some sea salt & cracked black pepper!