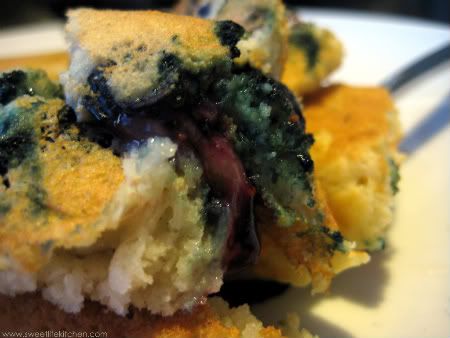 Ok, there's one question- Are you aware of the show, "The Best Thing I Ever Ate" on the Food Network?? If you don't know what I am talking about, stop reading and go set your Tivo RIGHT NOW.
Do heed this warning; you're not going to want to watch this show if you are hungry or if you are trying not to attempt making a blueberry ricotta pancake at 10:30pm on a weeknight...
The episode that inspired this recipe was "Breakfast" and our jaws dropped when the Blueberry Ricotta Pancake at B.L.D. (Breakfast Lunch Dinner) on Beverly, Blvd came onto the screen.
Not to mention that the front of my office was in the shot of BLD's exterior...I have been working literally RIGHT ACROSS THE STREET from this glorious pancake since the restaurant opened and this is the first time I am hearing about it?!? Ok, I do pretty much only go there for L or D, and have yet to make it there for B, but do plan to SOON!
In the meantime, Nate and I had to at least attempt to make this glorious flavor combination happen.
We didn't have any buttermilk, but I forged ahead and used my normal pancake recipe, using whole milk instead.. but whipped the egg whites, per BLD...which I've never done before! Fun and flufftastic~
Blueberry Ricotta Pancakes, inspired by BLD in Los Angeles, CA
Makes about 12-14 pancakes
2 eggs
2 Tbsp butter, melted
1 2/3 c whole milk
1 2/3 c all-purpose flour
1 3/4 tsp baking powder
1 3/4 tsp baking soda
1 pinch of salt
1 T. sugar
1/2 cup ricotta cheese
a few handfuls of fresh blueberries
Separate the eggs, and whip the egg whites into stiff peaks. (I use a stand mixer with whisk attachment)
In a large bowl, while the egg whites are whisking sift the flour, baking powder, baking soda and salt.
Pour the milk, butter and sugar into the dry ingredients and mix until incorporated, using a spatula fold in the egg whites and add the ricotta in tablespoon sized drops and lightly mix in.
Heat a large frying pan or griddle to medium high heat. Using a ladle scoop about 3/4 of a cup of batter onto the heated surface. Drop as many blueberries as you'd like (I think we did 5-7 per pancake). Wait until you see bubbles across the surface and the bottom of the pancake is golden then flip & cook until lightly golden.
I loved these topped with a drizzle of honey and a little bit o' butter~
I'll have to try the BLD version soon and then make these again!! Stay tuned...