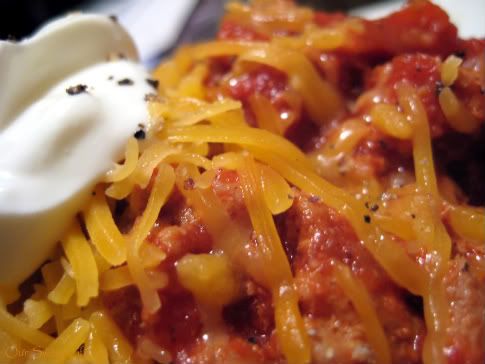 It's 2009 and I hope to continue making more easy weeknight dinners that don't break our calorie bank! We both made big efforts in getting healthy last year and hope to keep that up and even improve on our eating and exercise habits in 2009~
This is one of my favorite go-to recipes that is healthy and full of flavor! I usually make this sandwich style on whole wheat buns, and we've had it as leftovers in taco shells, but Nate had never had spaghetti squash before so I thought this would be a fun twist!
Joes
1/2 sweet Maui onion chopped
2-3 clove garlic, minced
1 Red Bell pepper, finely chopped
1 lb ground Turkey (or beef)
1 6-oz can tomato paste (I also get a small can of tomato sauce- see below)
1 1/2 tsp chili powder
1 1/4 to 1 1/2 tsp cumin
1/4 tsp fresh ground pepper
1/4 tsp cinnamon
several pinches of kosher salt
1 spaghetti squash (you can also use toasted bread, pita, taco shells...)
Grated cheese *my two faves are sharp cheddar or jalapeno jack
Sour cream to garnish
Remove sticker and wash spaghetti squash. Pre-heat the oven to 350. Microwave on a microwave-safe plate for about 6 minutes in 2 minute intervals. This will make it easier to cut in half lengthwise. Scrape out the seeds and center like when you carve a pumpkin (YAY!)Fill a 9 x 13 baking pan about 1/2 full with water and put the squash cut side down into the pan. Bake the squash for about 50-60 minutes, until squash is tender. Take squash out to cool.
Spray a large saucepan with non-stick spray and a little bit of olive oil over medium heat. Add onion, garlic, and red pepper. Saute until fragrant, about 3 minutes. Add meat and brown, about 5-7 minutes. (two options at this point: if you use extra lean turkey and you do not have fat to drain, just leave all liquids then add tomato paste and spices...an option to that if you've cooked with ground beef or something that you'd rather drain some of the fat, then after draining and adding paste & spices, then add a small, like 6oz can of tomato sauce for sauciness)
Add spices: chili powder, cumin, black pepper, cinnamon, and salt, stirring after adding each spice. Simmer, stirring occasionally & saute (if you have left the juices in and only added tomato paste- let the sauce thicken a bit about 12 minutes)
Scrape the squash with a fork onto a plate (we each ate a 1/4 of a squash and had the other half the next night for leftovers) top with Joe's mix, some cheese and a bit of sour cream. OH! and Black pepper...yummy~