HAPPY NEW YEAR TWD!! I am so excited to be part of TWD as the group celebrates a whole year of baking fabulous recipes from the book "Baking; From My Home to Yours" by Dorie Greenspan.
I've been thrilled to be a part of this awesome group and could not think of a better way to kick off a new year - a second year of TWD - than with this delicious French Pear Tart. In addition to the excitement of the French Pear Tart itself, this weeks pick was one I've been looking forward to, because it was chosen by
Dorie Greenspan
!!
Visit Dorie's site to see the real deal, and the
TUESDAYS WITH DORIE
BLOGROLL to see everyone's tarts ;o)
I loved this recipe because it was perfect to pace out over a Sunday morning.
I made the crust first, then while it froze I made the Almond creme. (Thanks to Dorie suggesting in the recipe that the creme can be made ahead~)
Then the crust cooled and the creme fridged while we had lunch, after that, I poached pears and baked it up! My knife skills are a work in progress, but I think I did an ok job to be improved upon next time!
This tart is beautiful and INCREDIBLY DELICIOUS- Nate and I both love this tart and would make it again
If you don't already own Baking; From my Home to Yours...run on out and buy it, you will bake more in 2009 than ever before! WOOOHOO!!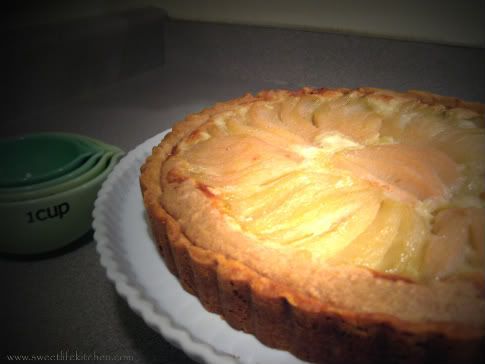 Tune in next week for Savory Corn & Pepper Muffins~ I can't wait!