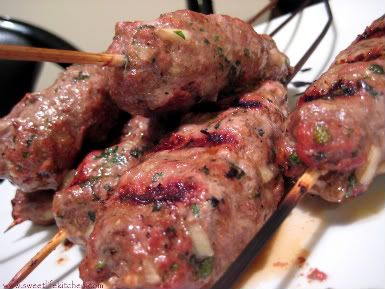 We were having some pretty nice weather around here circa Thanksgiving and I thought it'd be fun to do something different than the usual burgers or more turkey leftovers!! This is great to prep the night ahead or right when you get home because .:*
the lamb needs to marinate for a minimum of 2-3 hours
*:.
Beth's Grilled Lamb Kabobs
1 lb ground lamb
1/2 a sweet onion, finely chopped
1/4 cup fresh mint leaves, finely chopped
1/2 cup cilantro, finely chopped
1 tsp fresh grated ginger
1 Tbsp fresh lemon juice
2 tsp cumin
1/8 tsp cinnamon
1/2 tsp paprika
1/2 tsp cayenne pepper
a pinch of kosher salt and some fresh ground pepper
skewers
Combine everything in medium bowl and cover in plastic wrap, refrigerate 2-3 hours.
Form long patties that are equal in thickness. Oil the grill surface so the lamb does not stick. Grill over medium heat about 4-5 minutes each side, flipping once with a spatula or plastic tongs (don't pull them by the stick!).
Serve with warm pita bread and hummus~
Hummus
1 15 oz garbanzo beans (1/2 the liquid set aside) drained & rinsed
1 Tbsp tahini paste
Squeeze 1/2 a lemon (about 2 Tbsp) lemon juice
Kosher salt, fresh ground pepper
2 garlic cloves
2 tsp olive oil
Combine all in the food processor, add reserve garbanzo bean juice to achieve desired texture. Refrigerate, covered with saran wrap at least 1 hour before serving.
Also yummy with my
Cucumber Salad