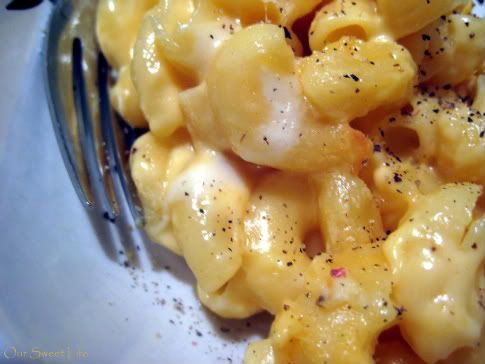 I am trying to find the perfect recipe for mac n' cheese, so I began experimenting with some different ingredients (this was my first attempt). I like this recipe but will continue to try different cheeses, pasta, etc. until I find my favorite.
Serves 6
1 small bag of elbow mac
4 oz Velveeta, room temp
4 oz Cream cheese, room temp
1/2 cup sharp cheddar shredded
1/4 cup shredded mozzarella
1 T. Parmesan
milk
pepper
In a large sauce pot bring water to a boil and cook pasta for about 7 minutes or to aldente according to package directions. Pre-heat oven to 350.
Drain and return to pot. Add Velveeta, cream cheese, cheddar, mozzarella and Parmesan to hot pasta, turn on very low heat and stir constantly until all cheese is melted and ingredients are well combined. Add milk 1 T at a time up to 4 T for desired texture, add pepper to taste. Pour into a casserole dish and cook, uncovered, for 25-35 minutes or until top is golden.