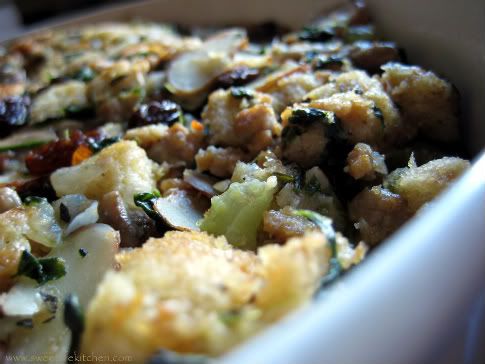 This is seriously the BEST stuffing I have ever had in my life. I don't know that I'd ever want another type of stuffing ever again, this ROCKS! A HUGE thanks to Colleen Beauregard for sharing this family tradition with our family this year and letting me make (and share) her sensational stuffing recipe~ She noted that she usually quadruples this recipe for her family because it is such a favorite. And added in the email she sent, "I used to make extra casseroles and freeze extra batches to send with the kids back to college. You know, back in the day!!!"
Well, I couldn't get enough of this and although we only made a single batch I wish I still had some in the freezer to heat up and enjoy!!
Italian Sausage Stuffing
(Bake in casserole and in turkey.)
1/2 c butter
1 lb. sausage (out of casing)
1 c chopped celery
1 medium size onion, chopped
1/4 lb mushrooms, sliced
1 package (10 oz.) frozen spinach, thawed and squeezed dry.
1/2 c each raisins and grated Parmesan cheese
1 c sliced almonds
3/4 c of dry white wine
1 t each rosemary and oregano * Note from Co:
"I always use more...till it looks good"
1 package of stuffing cubes (about 4 cups)
In 4 - 5 quart pan, melt butter. Add sausage, celery, and onion. Cook over med-high heat until sausage is cooked...about 20 minutes. Stir often so sausage is crumbly. Add mushrooms, stir until most of liquid from mushrooms has evaporated...about 10 minutes.
Remove from heat and stir in all remaining ingredients.Add the stuffing last...it seems to blend better. Taste and add any additional rosemary or oregano and salt.
Spoon stuffing into a buttered casserole, cover with foil and bake in a 325 degree oven for about 40 minutes.Remove foil for the last ten minutes or so of baking.
You can make the stuffing ahead of time....just don't stuff it in the turkey until you are ready to put the turkey in the oven.
Also you can take a baster full of turkey drippings and drip it on the casserole you plan on cooking on Turkey day. All the extra casseroles/frozen batches never get this extra treatment and still taste marvelous so it is not really necessary.
From the kitchen of~
Co Beau