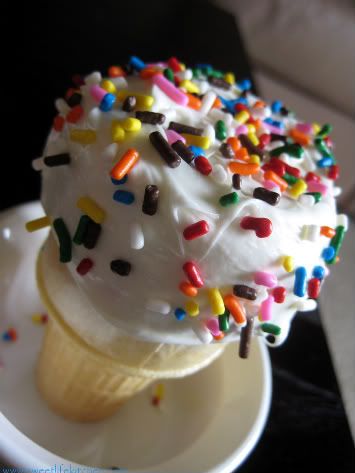 I am not so much "boxed cake mix" type of gal. Don't get me wrong, I do use it, eat it and use it as a base for other fun stuff. My homie Naomi LOVES Funfeti...and there is only one Funfeti, even if you bust it out "from scratch", we're sure it's still good, but it's not actual FUNFETI unless it has the Doughboy on the box.
She recently moved into a new place and made us all a KICKASS Carribean-Style-Thanksgiving FEAST of a party. I was going to be making guac, but should have gone to farmers market because the grocery avacados were not buneo.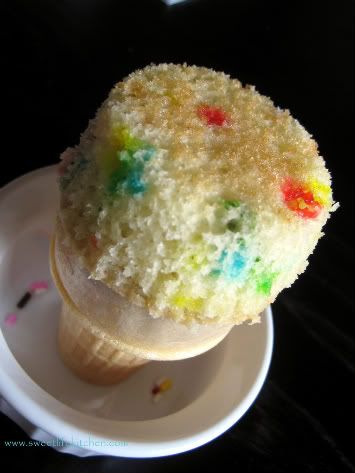 After a memory jogging convo with my mother, I can inform you that this is OLD SCHOOL. We used to make these together (how can anyone wonder how I ended up loving creative food) when my sister & I were little. I thought these would be fun twist on her favorite cake mix, and decided to bring these to the gathering...I was a little nervous because once they were made and gorgeous, I had to get them from my apartment to Naomi's with out dropin the cones!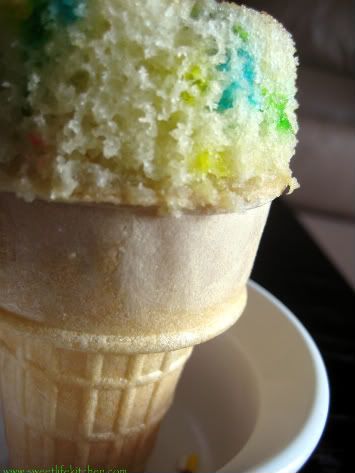 Fortunately Nate hooked up a brilliant tote using a disposable cookie sheet and 4 plastic cups...we cut holes in the cookie sheet and he taped 4 plastic cups to the bottom...I should have snapped a pic of it, but could draw it for you in a pinch~
This made 12 Ice Cream Cone cupcakes and about 20 mini cupcakes
What you'll need
1 box o Funfeti cake mix (plus the eggs and oil required by said cake mix)
12 ice cream cones
paper cupcake liners for the cupcakes
1 container of FUNFETI frosting
Sprinkles!!
Line a muffin pan with paper cupcake liners (12 regular size and about 20 mini, so prep both pans...)
Preheat oven & make cake according to pacakge...how mellow is this recipe so far??
Fill the cupcake liners about 1/2 full of cake batter and on the 12 full size cups tip an ice cream cone, upside down (BOTTOMS UP!!) into the batter..on the minis just fill em about half full...if you can find mini-ice-cream-cones...then by all means cone them ALL!
Bake according to package for cupcakes, and let cool for about an hour on a cooling rack, with the cones still bottoms up. When they are cool, flip them so they are standing up and peel the paper liners off the cupcakes. Frost with funfeti frosting and decorate like crazy with sprinkles!!