During a recent trip to the Stags Leap District of the Napa Valley. We were BLESSED to be with some dear friends, one of those friends being a bartender at Anchor & Hope (and two other peeps with us being the GM and sommelier of A&H) SUPER LUCKY US.
Click here to see Anchor & Hope SF
So far what I can share with you, as far as wine experience goes, is that it's a glorious, never-ending journey. We visited 6 wineries; Chimney Rock and Pine Ridge were two of them.
More details of the trip to come...If you want to hear about each winery and details of the trip SOONER,
click HERE to become a fan of Sweet Life Kitchen on Facebook
, I am posting all the edible, sip'able goodness of our PCH trip on the fan page, as I will only be posting here when we open the bottles and pair it with a recipe~ like this one!
This recipe comes from Chimney Rock, where it was passed along by a local and was so simple we didn't even need to write it down...we paired it with the Dijon Clones Chardonnay we purchased at Pine Ridge Winery. The oysters and the chardonnay really brought out the best in one another (not too hard to do) and Nate & I think this was one of the BEST dinner's we've EVER made.
About the vino~ This chardonnay, from 2007, is a super summery wine. It is very light, and full of fruity-ness with out being SWEET, which we really loved.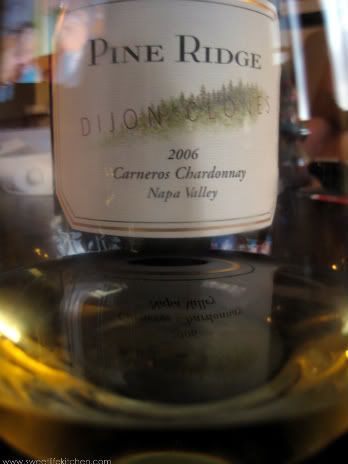 About the oysters~ This recipe is most often prepared with large, meaty oysters. Nate and I LOOOOOOVE oysters and try to eat them when ever possible...we recently had an INCREDIBLE dinner at Santa Monica Seafood's newer location on Wilshire Blvd and the Kumomoto oysters were seriously divine...so we decided why the heck not- they may not be big but they are DELICIOUS, raw, grilled, delicious.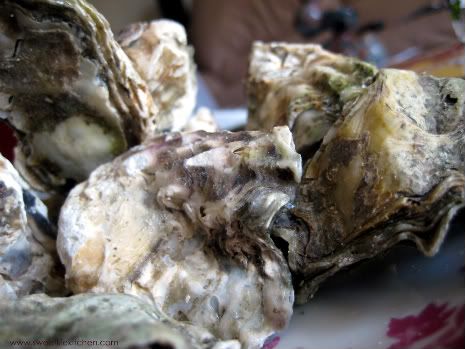 Napa Valley Grilled Oysters
12 oysters
1/2 cup butter (unsalted)
1/3 a large bulb chopped fennel
1/3 cup chopped shallot
(we pretty much eyeballed this- it does not have to be precise at all.)
Heat up on super low in a sauce pot JUST to melt the butter and mix, turn off heat
Meanwhile put the oysters deep side down on the grill and heat 3-5 minutes or until the shells start to pop open (if one does not want to open- toss it, peace out oyster.)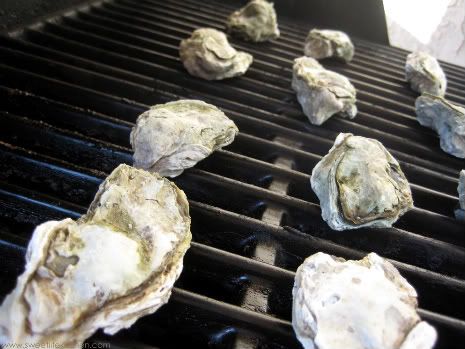 Remove them from the grill and use an oyster shuckin knife and pop those tops!! loosen up each lil oyster and spoon the super amazing, delicious fennel-butter-shallot extravaganza on to each oyster...
Put the topped off oysters back on the grill for about 3 minutes or until butter starts to bubble and they are all heated through.
Prepare to have your socks knocked OFF.