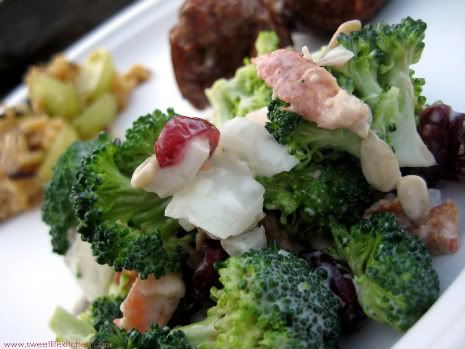 Cool, easy-peasy summer salad. I made this for the Hollywood Bowl excursion we recently took and LOVE this at picnics. It's no Mama-Corrado Pasta Salad (coming soon to rock your world..) but this is an AWESOME salad for big fun stuff where people come to eat (you know, everything that happens in the summer...bon fires, concerts, picnics, etc.) I certainly did not invent this, it is an old school staple that I love. After buying some at Whole Foods recently I made it from my memory of how that tasted.
This is a somewhat "wingin-it" type of recipe, so taste and adjust and taste and adjust and you will be just fine...
Serves 6-10 people
4-6 cups broccoli crowns chopped into bite sized pieces
6-8 pieces of bacon, cooked- cooled- crumbled
1 c mayonnaise
3-4 T white vinegar
2-4 T sugar
a few handfuls of sunflower seeds
1/2-2/3 cups chopped sweet white onion
a few handfuls of crazins (or raisins, or golden raisins- I mucho prefer crazins)
Sprinkle of ground sea salt and some fresh black pepper to taste
In small bowl whisk together the mayo, sugar and vinegar~ set aside. In a BIG bowl toss the broccoli, bacon, crazins, onions & sunflower seeds. Pour the mayo/vinegar/sugar over the broccoli and add salt & pepper to taste. Toss it up and refrigerate at least a few hours, or overnight is even better!