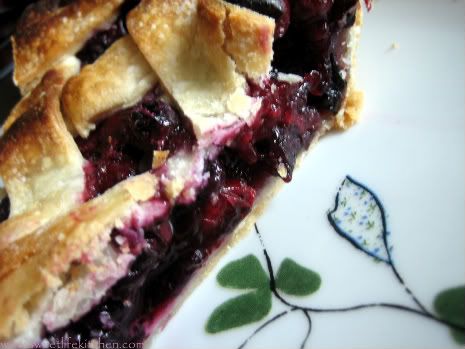 I initially made this pie with blueberries and cranberries
here
, but I am posting an alternative recipe to make it with raspberries instead. Both blueberries and raspberries are very much in season and delicious at the moment, or if you prefer, another way I've made this is in pot-pie tins with blueberries and black cherries
HERE
.So if you are having a get together this weekend for the 4th, this pie with some vanilla bean ice cream would make a great addition, and in it's own way reps the Red, White & BLUE~ HAPPY 4th of JULY!!
I pretty much use Dorie Greenspan's Good for Almost Anything Pie Crust recipe~ you can find it as posted by Dorie
HERE
Blueberry Raspberry Pie
3 cups blueberries (if fresh rinsed & pat dry, or frozen- I used frozen)
2 cups raspberries(I used fresh, rinsed & patted dry)
1/2 cup white sugar
1/4 cup brown sugar
4 T plus 1 tsp cornstarch
1/4 tsp salt
1/4 tsp cinnamon
a wee pinch nutmeg
1 T butter (cut into small cubes)
Top and bottom pie crust for a 9" pie
Preheat oven to 375 & grease a pie tin (or glass in my case)line with bottom pie crust. In a large bowl mix berries, sugars, cornstarch, salt, cinnamon, nutmeg until berries are coated. Pour berries into bottom crust and sprinkle butter cubes evenly over the top. For the top pie crust, it's your choice- I did mine lattice.
After the top crust is on securely, cover the edges of the pie crust with foil to prevent burning (I totally forgot that step & burned the crap out of mine). Place on a foil covered baking sheet & bake for 45-50 minutes or until pie crust is golden brown.
Then turn off the oven and let pie set in oven for 15 minutes. Then let pie cool on the counter for at least one our before slicing.