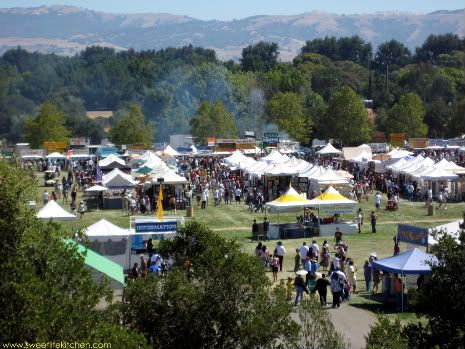 If you are like me, you looooove watching the Food Network, it's an obsession (obviously). A few years ago I caught a special about Food Festivals, it was a countdown-style show and all lead up to their #1 pick, the Annual Garlic Festival in Gilroy, CA.
Gilroy is not exactly Los Angeles adjacent, but it is easily a no-airplane-required trip. I have been talking about going to this festival "someday" for a few years now (since learning of the it's glorious garlicy existence). Last year we were lucky enough to attend the Portland Brewers Festival, but it was the same weekend as the Garlic Festival, so no go in 2008....
Then as spring got hot and summery, I got an email inviting us to Morgan Hill, CA for a dear friend's 40th b-day. Now this friend LIVES in Portland, OR- so I started looking at flights, then my co-worker actually READ the evite and the road-trip planning was in full swing. I could not believe our luck that the party was on the Saturday of the GARLIC FESTIVAL, and the party spot was merely 11 miles away from allll that GARLIC!!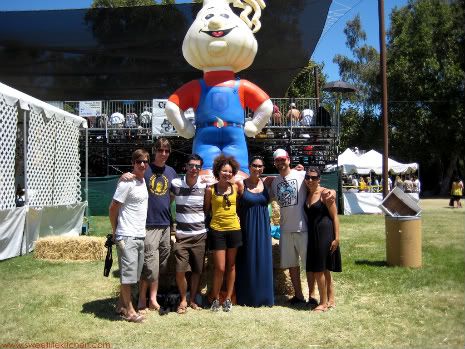 What I knew going in: there was going to be GRIPS of GARLIC...and there was going to be garlic ice cream and I was going to eat it. It was going to be H-O-T, HOT, like no-joke ragin' in the high 90's low to mid-hundreds hot.
What I did not know: This is a MAJOR fundraiser. I happily purchased a program from a super-friendly high school program-girl for $1 that supported their high school. $1 for a program, that's awesome...it has the recipes from last years cook-off (stay tuned for those), and tons of great garlic info.
Part of that info was a breakdown of all the local schools and organizations that benefit from the funds raised each year at this yummy event. And (pictured here below) there was a big garlic-torch that noted a total of over $8 MILLION funds have been raised since the festival began.
With California's farms facing serious drought issues, and with everyone feeling the crunch of the current economy, this really hit home and made me glad to be there. I mean the ticket was only $12 (I would have gladly paid twice that for all the good the event does!!)
Another thing I did not know was how we would all turn into drooling children in a toy store and eat ourselves silly in no time flat.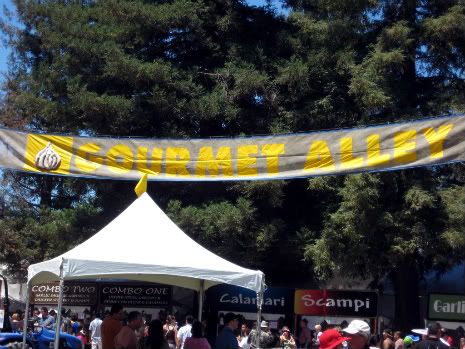 We walked right in and hit Gourmet Alley~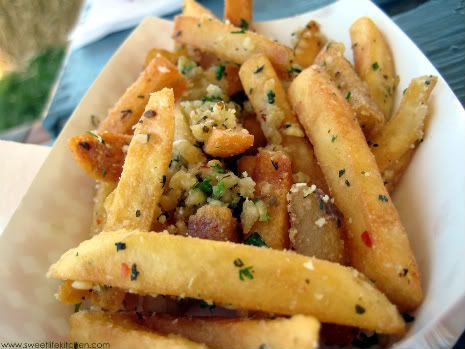 Garlic Fries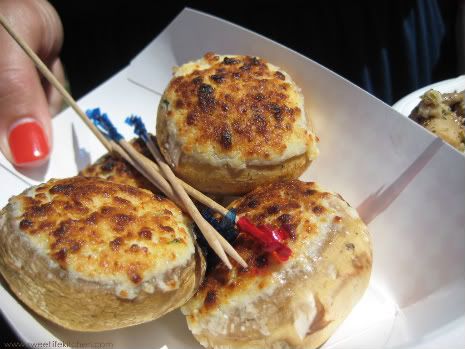 Garlic Sauteed Mushrooms ~top~ and Garlic & Cheese Stuffed Mushrooms (I will definitely be making these, IF YOU HAVE A RECIPE- PLEASE POST IT as a comment to this post!)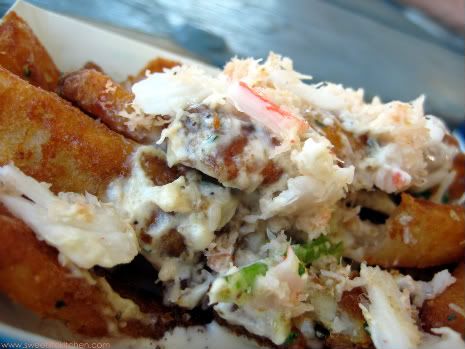 Garlic Crab Fries
Garlic Jumbalaya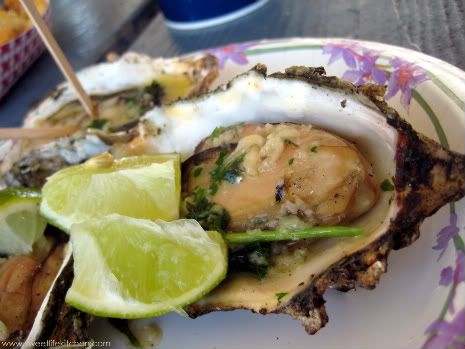 Garlic Grilled Oysters (YAY OYSTERS!!)
Garlic Chicken Stir Fry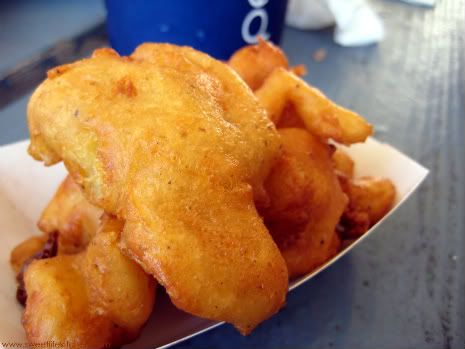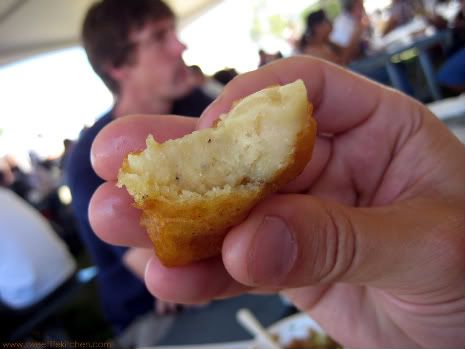 Deep Fried Garlic (this was our FAVORITE item!!)
Garlic Ice Cream (SUPER EXCELLENT, I also want to attempt to make this- it was delicious!)
Garlic Grilled Craw Fish
In addition to the seriously scrumptious eats and fabulous fund raising, there was top-notch entertainment. We arrived a little later than planned on Sunday (FYI, plan to arrive at 9:30, the fest opens at 10, and TONS of people attend...and upon arrival, walk the WHOLE Festival, THEN start eating...those are my must-note-tips!)
In any event, the big cook-off took place Sunday at noon, and we were there, but didn't make it into the grand-stand but did watch from the giant screen. This was super exciting because Fabio, of recent-Top-Chef-fame, was our FAVORITE contestant on T.C. last season, and it was fun that he was there hosting!
The annual Garlic Festival in Gilory, CA is definitely an event you must add to your can't-miss-list. There are tons of affordable hotels near the festival, and even if you eat 'till you bust, like we did and do some shopping (there are loads of fun merchant booths too!) it is still not a budget-buster of a weekend. ESPECIALLY if you live in California~ it's a great way to support an amazing farm-fabulous community that I, for one could not live without!
gilroygarlicfestival.com
And please feel free to post any garlic-tastic recipes that you love as a comment to this post!