If I move away from Los Angeles there is a top 20 of things I am really going to miss...I am not sure what order that list runs down in, but spending evenings in the summer at the Hollywood Bowl is on there. I know I can always drive to LA & enjoy the goodness of the Bowl, but it just won't be the same. We are seeing a few shows there this summer & one reason the reason the Bowl rocks so hard is because you can bring in your own food & bev...including BOTTLES OF WINE (Hello, that is beyond awesome, seriously.)
So here is what I made for our bowl dinner & concert snacks~ recipes comin' soon...
BBQ BISON MEATBALLS
Broccoli Salad
Cold Wild Rice Salad w/ Grapes
FRUIT!! (I brought one lil container with watermelon and another with a mix of strawberries, blueberries, raspberries and blackberries...see below)
Wine, Cheese, crackers (yay Lexie!), salami
Beer (yay Joe, you are a champ, hiking up from the church lot with a Heineken Mini-Keg!!!)
Oreo Cookies (yay Lexie!)
Whilst you read this Nate and I are setting off on a journey!! SUMMER ROAD TRIP!! We left this morning for a looooonnnnggg slow drive up PCH all the way to the bay baby~
I hope you enjoy these picnic-y summer photos while we eat, visit friends, surf, camp and relax our way up the state of Cali.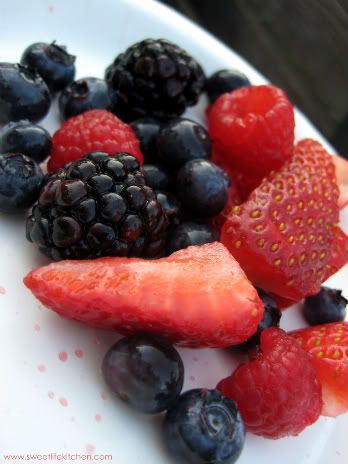 HAPPY YUMMY SUMMER!!! "See" you all next week when we get back to reality (aka, Los Angeles...lolz)