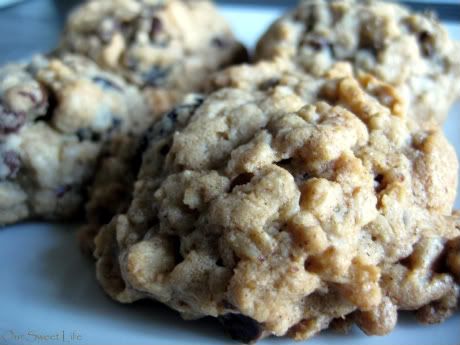 Ok, for a gal that does NOT like raisins, they sure are poppin up all over the place this month!! I soaked them in rum and brown sugar last weekend for
TWD's Arborio Rice Pudding
. Nate, as previously mentioned, loves raisins, so he's been pretty happy with this years fall baking...I usually make this cookie with crazins, but thinking I may eat less of them if they had raisins, knowing Nate would love them, I went raisins on this batch.
These are awesome on a holiday cookie plate, I'm not going to be making them for the holidays this year though so thought I'd make a pre-Thanksgiving batch for the heck of it.
This makes about 40 cookies
1 1/2 cups flour
1 tsp baking soda
1 1/2 tsp cinnamon
3/4 tsp ground cloves
1/4 tsp nutmeg
1/2 tsp ginger
1/4 tsp salt
3/4 cup butter, at room temperature
1/4 cup butter flavored shortening
1 cup packed brown sugar
1/2 cup white sugar
2 eggs
1 tsp vanilla
3 cups rolled oats
1 cup raisins
1/2 cup mini chocolate chips
1/2 cup crushed pecans (very finely chopped)
Pre-heat oven to 350 and have 2 un-greased foil covered baking sheets ready to rock.
In a medium bowl combine the flour baking soda, spices and salt, and whisk to combine.
Using a stand mixer fitted with the whisk attachment, beat the butter shortening and both sugars, add the eggs one at a time and mix until totally incorporated. Add the vanilla and mix. Switch from the whisk attachment to the paddle attachment of the mixer. Slowly mix the flour & spices into the butter, sugar, eggs mix. Then stir in the oats, raisins, chocolate chips and nuts.
Drop using a cookie scoop or spoon (make rounded spoonfuls about 1 1/2 inch diameter) onto the cookie sheets, they only need about an inch between each drop.
Bake 10-12 minutes, let cook a few minutes on the cookie sheet and then transfer to a wrack to cool completely.