Hoooooray and WOOHOO for RICE PUDDING!! This is one of Nate's favorite things, that I have never made, so I was happy to see Arborio Rice Pudding on the agenda for this weeks edition of
TUESDAYS WITH DORIE
.
A BIG THANKS to Isabelle of
Les Groumandises d'Isa
for choosing this desert, I look forward to making this again~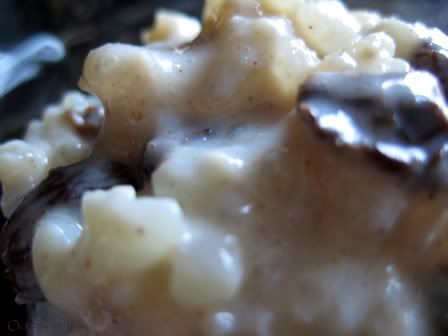 Visit Isabelle's blog using the link above for the recipe~
Here are my notes;
I par-boiled the rice for the 10 minutes listed in the book, and next time would par-boil for 15 (because I cooked it for 40 minutes, not 30 in the milk and it was still a little too aldente) I also increased the amount of Arborio rice to a little less than 3/4 cups and kept the milk the same after reading many TWD'ers who felt the mix was too thin...mine was SUPER thick! I think next time my ratio will be 1/2 cup rice to the 3 1/4 cups of milk.
Also, because (by now) we all know NATE LOVES RAISINS, I decided to go the rum-raisin route for a fun mix-in.
I used two lil'boxes of Sun-Maid raisins
Soaked in just enough warm water to cover them for about 4 minutes, then when the pudding was almost done I heated the raisins with 2 T. dark rum, 2 T brown sugar and 1 tsp cinnamon over medium heat for about 5 minutes, then lowered the heat for 3 minutes to thicken up the mix. Even I liked this, raisins and all....go figure!
Next week's TWD will be posted a little late since I'll be taking it to Thanksgiving dinner~ STAY TUNED....