Look at little Artie in the background- I literally had to wrestle with him while taking these pics, he was relentless and wanted that cake!!
I've been making different pumpkin cakes this month, trying to find a recipe I love and discovered I was not super into the powdered sugar intense frosting...don't get me wrong, I am not a frosting hater. I love making
MY PUMPKIN GINGERBREAD
at this time of year and making spiced cream cheese to spread on it...so I made this version that was a little less sweet and a little more in the spice-filled-cheesecakey-filling neighborhood. I used the "kitchen towel" covered in confectioners sugar method, as most pumpkin roll cake recipes do...This sounds gnarlier than it really is and it's a fun way to make a delicious good lookin' cake! Here is a useful link to a video on the Libby's Pumpkin site that shows the whole process step by step!
CLICK HERE TO SEE VIDEO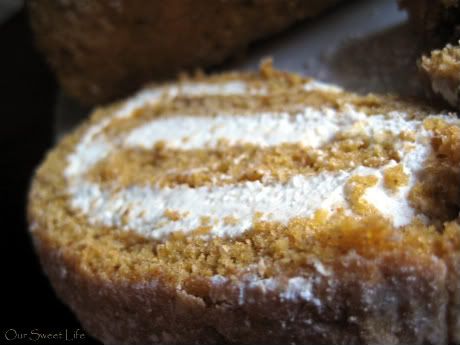 Sweet Life Pumpkin Roll Cake
This is my version of a pumpkin roll, the cake is moist and spicy and the filling is more of a cheesecake than a frosting
3 eggs
1 cup sugar
2/3 cup pumpkin
1 tsp fresh lemon juice
3/4 cup flour
1 tsp baking powder
1 tsp cinnamon
1/2 tsp salt
1/4 tsp nutmeg
2 tsp ginger
1/4 tsp cloves
1/4 tsp allspice
Filling
8 oz cream cheese softened
1 tsp lemon juice
1 tsp lemon zest
1/3 c sugar
1 small/regular container cool whip, thawed
1 1/2 tsp pumpkin pie spice
Pre-heat the oven to 375...grease the bottom of a jelly roll pan,W then line with wax paper, then grease again and dust with flour.
In a medium bowl whisk together the flour, spices, salt & baking powder.
Prepare a thin kitchen towel on a flat surface by dusting it with powdered sugar. (see video above)
Using a stand mixer with a whisk attachment (or the aforementioned hand mixer or strong arm) whisk the eggs and sugar for several minutes. Add the pumpkin and lemon juice, and mix a few minutes more. Slowly add the dry mixture until it is fully incorporated. Pour into the prepared pan and bake for 17-20 minutes or until cake springs back when touched.
Invert the cake onto the towel and roll up slowly. Let cool about 15-20 minutes.
Combine all frosting ingredients in a stand mixer with the paddle attachment and mix until well combined and smooth.
When cake is completely cooled, unroll it and frost, then roll it right back up in some plastic wrap and refrigerate 1 or more hours, slice up and enjoy~