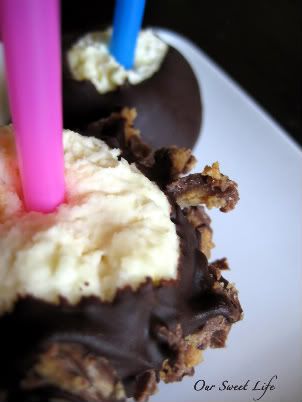 Ok, so I have got a TON of catching up to do!! As you know, I fell off my blog-wagon back in April, with work, life and just WAY too much going on around me, I have stacks of
drafts
in my little blog-post-storage!! So, it's time I start getting caught up!!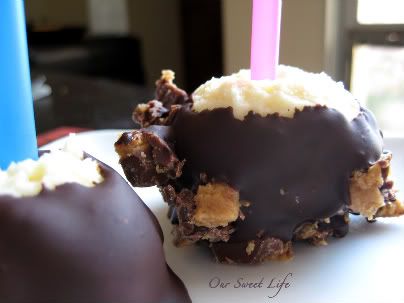 This is actually my
DARING BAKERS
challenge from APRIL! (can you believe that, totally embarassing!) To keep it honest, I did not complete May's Opera Cake Challange, and I am doing my June goodness THIS weekend, but then I'll be all caught up, in the DB department at least!
These were probably my absolute favorite
DARING BAKERS
Challenge so far (since joining in December of 2007)
This challenge was chosen by Deborah of
TASTE and TELL
and Elle of
Feeding My Enthusiasms
here are the links to their cheesecake pops, where you can find the recipe and many glorious versions of this super crowd friendly desert! This recipe comes from a must-own book of deliciousness,
Sticky, Chewy, Messy, Gooey
by Jill O'Connor.
This was not too difficult, was SO impressive, and will be a go-to party desert for me for the rest of my life!! You can really go in any direction with these as far as decorating them- dark chocolate, milk chocolate, sprinkles, nuts, etc...the possibilities are endless!!
I did end up cooking mine about 15-20 minutes longer than the recipe called for, let it sit for 15 minutes with the oven off and door closed after cooking was complete.
I used straws from the grocery store that I cut with kitchen scisors, and mine are dipped in dark chocolate (some rolled in cut up reeses p.b. cups- but that didn't work too well, but well enough I think I'd just go crushed nuts & sprinkles next time...)