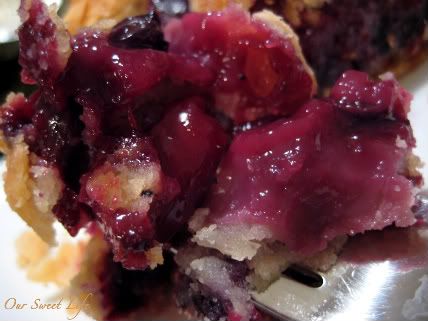 It will still be Tuesday for about an hour here in LA, so I made it! YAY!!
I couldn't resist this weeks
TUESDAYS WITH DORIE
pick, brought to all of us by Amy of
SOUTH IN YOUR MOUTH
! Amy chose Dorie's Double-Crusted Blueberry Pie, from "Baking; From My Home to Yours" By: Dorie Greenspan, a fabulous baking group that is baking and eating our way through this SENSATIONAL book. My copy is now pretty evenly coated in a very thin layer of sugar, flour and a few vanilla extract stains here and there. Hop on over to Amy's blog if you are still waiting for your book to be delivered or if you're at work and need the ingredients for your grocery list before heading home. She has the whole breakdown, a beautiful pie and a great story!
Back to the pie....or in this case pieS. I decided to make mini-pies instead of one whole pie. This makes it a little easier for Nate and I to stay on our health kick and share the pie love with our co-workers. While we were grocery shopping this past weekend I came across disposable "pot-pie" pie tins and figured that would be perfecto!
I picked up a whole mess of fresh, giant blueberries, and got to pie makin'!
First I made the double crust (a double batch of Dorie's go-to pie crust that is the BIZOMB.) The only change I made is using the plastic "dough" blade on the food processor....
While the dough was chillin I cleaned up my flour mess and gathered up the filling ingredients. I could find one of the containers of blueberries, but where the heck was the second container?? I tore the fridge apart, checked my grocery receipt (rang up for TWO containers of blueberries) and had no luck turning them up. I was not giving up on the pie making (and was not going back to the store) so took some filling liberty on this recipe.
I used 1 pt of fresh, delicious blueberries and about 1 to 1 1/2 cups fresh cherries, pitted (we drove to Tahoe last weekend and scooped the cherries up on our long Sunday drive home through the farm lands of Cali).
I kept everything else about Dorie's filling recipe the same (and crossed my fingers!)
I rolled out the first disc of dough and it made enough crusts to fill 5 of the lil pot-pie tins (which I buttered BIG TIME!).
Then I tried to be as even as possible with the filling.
I rolled out the second disc, used one of the un-used pot-pie tins as a stencil and cut out my top layer of crust, sealing each little pie up~
I baked the 5 pies 25 minutes before lowering the oven temp a bit, but then for about 35 minutes- so in the end the same cooking time.
These were a HUGE hit!! The flavor combination was absolutely beautiful, and the pies were adorable! Nate and I cut one in half and shared it (perfect amount of decadence)then he had a little more...
These were fun to just dig into with a fork like we did at work today! I loved it as Blucherry Pie, but think it would be brilliant with just the blueberries~
This recipe was DELICIOUS and a most definite keeper!
PS the other container of Blueberries was in my freakin trunk! (I'll check there SOONER next time!)...