I get pretty bored with weekday breakfast pretty quickly. I mean, how much SpecialK and plain oatmeal can one gal eat?!? So I love making these from time to time to mix it up a bit and have a yummy portable egg breakfast that is also low in calories and easy to heat & enjoy!
My favorite way to do this is make a batch on Sunday evening, then have 2 of these little pups for breakfast 3 days the following week...
Makes 6 lil'egg-muffins
5 eggs
1/4 cup non-fat milk
1 piece non-fat cheese
1/2 c frozen chopped spinach
1/3 c frozen diced onion
3 frozen veggie sausage patties- thawed and chopped into bits
Dash of hot sauce
Pinch of salt & pepper to taste
Spray a 6-muffin-tin with non-stick cooking spray.
Whisk the eggs, milk and hot sauce. Then add the onions and spinach, and stir in the chopped up veggie patties until all mixed up. Use a ladle to fill each muffin cup almost to the top (they do rise just a bit). Tear the cheese into 6 equal pieces and float a piece on top of each egg-cup.
Bake at 375 for about 45 minutes (the egg will appear totally cooked and look a bit golden when finished).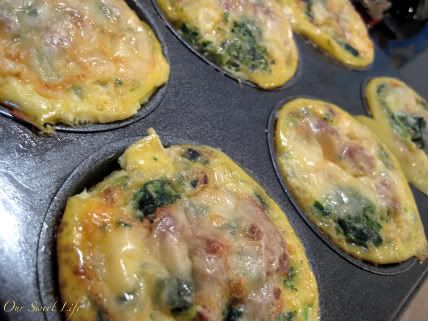 Serve with MORE hot sauce!! (the above mix ins are just one of a zillion ways to make these,use veggie bacon, a little dollop of goat cheese, fresh herbs- anything you can think of!