I got a great Christmas gift this past Christmas from my brother & sister-in-law; The Silver Spoon, Italian Cookbook.
Since we were making a tanker-truck of a dinner, the homemade lasagna, I wanted to do some thing fruity, cool and creamy for desert and this was a perfect marriage of all those elements.
This recipe makes a TON of semifreddo, enough for a big loaf pan full (as the recipe says) AND 6 individual muffin tins (which made for pretty serving!)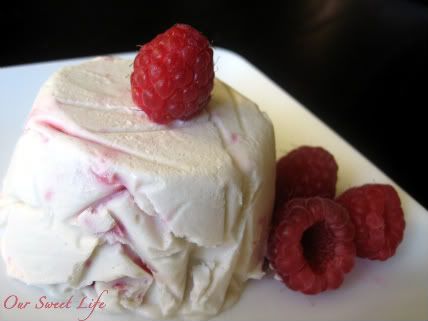 Raspberry Semifreddo
Semifreddo al lampone
Source: The Silver Spoon Cookbook
6 eggs
1 1/4 cups super-fine sugar
1 1/2 cups raspberries
3 cups heavy cream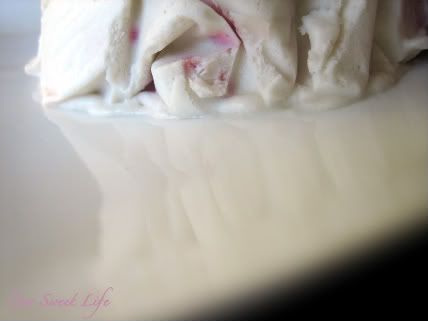 Whisk the eggs with the sugar in a heatproof bowl over a pan of barley simmering water until thickened, then remove from heat and continue whisking until completely cool.
Mash the raspberries in a shallow dish.
Stiffly whip the cream (
I used our stand mixer to whip the cream until it formed stiff and glossy peaks
. Slowly combine the cream, egg mixture and raspberries by stirring gently.
Line a rectangular loaf pan AND a 6-muffin muffin tin with plastic wrap, pour the mixture into the loaf pan and spoon it into the muffin tin and smooth the surface.
Freeze at least 4 hours to overnight.
To serve, turn the pan upside down to release the semifreddo and remove the plastic wrap.