It definitely can't be something you eat every day, but when we do eat lasagna, it's best when it's made from scratch through and through.
Pasta
We used this recipe from the
Silver Spoon Italian cook book and doubled it~
Nate usually makes it solo with out a recipe- he just knows when it's right!
p.268
Fresh Pasta Dough (Basic Recipe)
1 3/4 c. all purpose flour (plus extra for dusting)
2 eggs lightly beaten
salt
Sift the flour and a pinch of salt into a mound on the counter. Make a well in the center and add the eggs. Using your fingers gradually incorporate the flour then knead about 10 minutes (you can also use a stand mixer with dough hook attachment.
Add a bit of flour if the dough is too soft or a bit of water if the dough is too firm. Shape the dough into a ball and let rest about 15 minutes.
We then broke it into smaller pieces and used the attachment to our stand mixer to roll out the sheets.
Sauce & Meatballs*
Meatballs & Sauce from ALL RECIPES
*This is a good basic foundation for a tomato-based pasta sauce, that you can add spices, etc. to and make it yours...
We use Nate's family recipe- and you gotta marry one of us to get it! (well, not me or Nate of course, but you catch my drift.)
Cheeeeesseee!!
1 large container of ricotta cheese, 1 big block of top-notch mozzarella (cut into 1 or 1/2 inch cubes), and about 2 cups shredded Romano/Parmesan mixed up, and about 1-2 T chopped parsley (fresh or dried) use more if you are using fresh... and 1 egg-
Mix it all together with your hands in a BIG bowl!
Assembly
Once the sauce is finished pull the meatballs out onto a plate with a slotted spoon (we threw some spicy Italian sausage, 1pkg) into the sauce too- so, same for those- on the plate with the meatballs. (let them cool while you roll out the pasta.
Using the pasta roller attachment to a stand mixer, roll out flat sheets of pasta (make each sheet the aprox length and about 1/2 the width of the pan you are baking it in).
Place next to one another on a sheet of floured wax paper, so they overlap a bit- fork together the overlap to make it one sheet.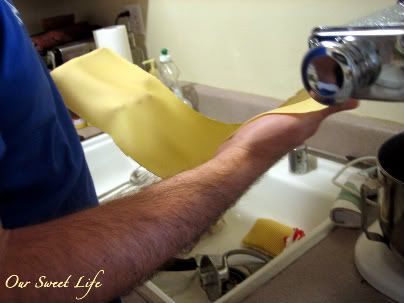 Cut the meatballs and sausage into slices about 1/4-1/2 inch thick.
In a large bowl mix the ricotta, mozzarella, 1/3 of the Parmesan/Romano, a few pinches of parsley, the egg, and some salt & pepper (we always do this mixin with our hands, but it can be done with a wooden spoon I suppose)
Spray a deep baking dish (we actually have an All Clad pan that is called a lasagna pan- this was the first time I used it correctly, I guess!)with non-stick spray. Add a big spoonful of sauce and spread out thinly over the bottom.
Place the first "sheet" of pasta in the pan.
Spread some sauce out on that layer, then place slices of sausage across the sauce to make a layer, spread some of the cheese mix on top of sausage, then lay another sheet of pasta over that.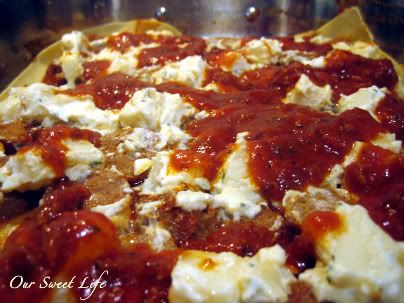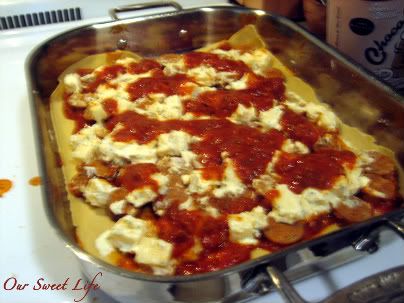 Spread a thin layer of sauce and then spread a generous layer of cheese and put the 3rd sheet of pasta on top of that.
Now, another layer of sauce, then place the slices of meatball in a layer and coat with a thin layer of cheese.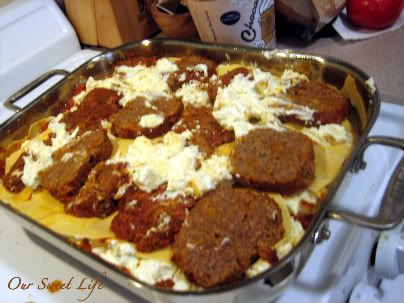 Lay the 4th sheet of pasta over that and top with a thick layer of sauce & sprinkle with remaining shredded Romano/Parmesan.
Bake at 375 covered with foil for 35-40 minutes, uncover and bake 20 more minutes.
Let it sit about 10-15 minutes before cutting and serving.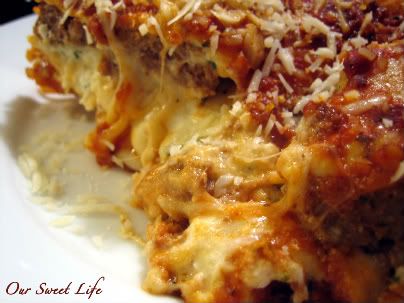 Serving suggestion; I served a small caprese tower with this dish.
Roma tomatoes, fresh basil leaves, olive oil and sliced mozzarella cheese ( make the slices about a centimeter to a centimeter and a half thick and to shape them all pretty, use a 2-inch diameter biscuit cutter if you got it!)Use a little plate and start with a piece of cheese, then a basil leaf, then tomato, basil leaf, cheese, tomato. Drizzle with olive oil, top with a bit of fresh cracked black pepper.
Then we had a lil'spinach leaf salad
Baby spinach leaves, fresh raspberries, slivered almonds & shaved hard aged Parmesan cheese.
Dressing;
Olive oil
Balsamic vinegar
Honey
Salt
Pepper
Dijon Mustard
2 smuhed raspberries
Whisked together
Some how in the midst of serving ourselves and our 4 guests (and being out of my blogging habit), much like the photoless dip in the weenie post- No pics of these two, but wanted to share anyhow!