I looooove my crockpot- much like all my fun kitchen goodies that are there to make life easy livin'.
I threw this together on a day off mid-morning, so I didn't have to mess up the kitchen making dinner after I cleaned all day. I did totally forget we had no tortillas- so I served them in whole wheat pita instead- we'll do it with tortillas next time~
This recipe includes an AWESOME recipe for homemade taco seasoning that will totally replace the urge to buy packets- just mix it up once in a batch and keep in an airtight container for up to 1 year!! 2 1/2-3 Tablespoons = one "packet" from the store.
3 T. chili powder
1/2 tsp onion powder
1/2 tsp dried onion flakes
3/4 tsp garlic powder
3/4 tsp oregano
1 tsp crushed red pepper flakes
1/4 tsp cayenne pepper
1 tsp paprika
1 1/2 T. cumin
2-2 1/2 tsp kosher salt
1 T. black pepper
mix it all together!
Onward to the chicken...
about 2 1/2 T. of the taco seasoning mix or 1 packet
15 oz LOW SODIUM chicken broth
1 14.5oz can diced tomatoes and liquid
4 boneless skinless chicken breasts
1 avocado
1/2 chopped sweet onion
1/2 chopped or sliced red bell pepper
Non-fat sour cream
HOT SAUCE
Soft taco size tortillas or pitas
In a large bowl or bigole measuring cup pour the chicken broth in, and use a fork to whisk in the taco seasoning mixture (add a few dashes of hot sauce if you want!)
Spray the slow cooker with non-stick cooking spray.
Open the diced tomato can and pour all contents over the bottom of the slow cooker.
Lay the chicken breasts on top of the tomatoes and pour the broth/seasoning over that.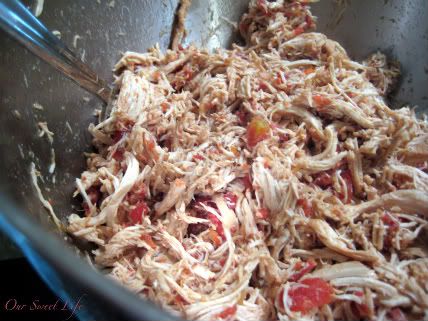 Cover and cook on LOW for 6 hours- chicken should fork apart easily.
Use a slotted spoon to remove the cooked chicken to a large bowl and use 2 forks to shred it up.
Use the slotted spoon to get all the diced tomatoes out of the slow cooker and add to the shredded chicken. Then grab a large cereal spoon and add about 4-6 spoon fulls of the liquid from the slow cooker to the shredded chicken bowl and stir it all up!
As I said, I totally forgot to pick up tortillas at the store so I served these in a 1/2 toasted whole wheat pita.
Top with red bell pepper, avocado, onion and a wee bit of fat-free sour cream (and, of course, a dash of hot sauce!)