I love cheesecake ever so much. One of the reasons I think cheesecake is so fabulous is that it's awesome plain, but also fantastic with all kinds of yummy seasonal or other-desserty flavors mixed in! A few years ago I made PUMPKIN CHEESECAKE BARS http://www.sweetlifekitchen.com/2007/09/pumpkin-cheesecake-bars.html, but since I had recently made MINI PUMPKIN CHEESECAKES this fall, I wanted to try something with caramel instead of pumpkin.
This cheesecake has a gingersnap cookie crust that seriously tastes like candy, it's really good!!
I made this one up on the fly- so email me if you have any questions or if my explanation of crust measurements is confusing beth@sweetlifekichen.com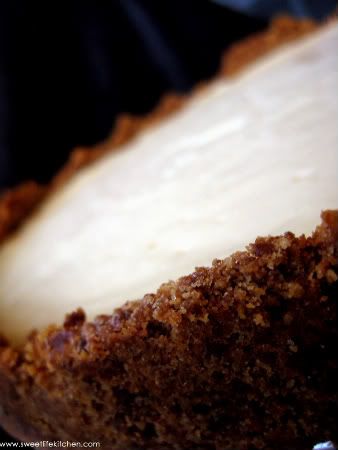 Crust
Heaping 3/4 cup of graham cracker crumbs
Heaping 3/4 cup of ginger snap cookie crumbs (I put a few handfuls of cookies in the food processor and blasted them)
6 T butter melted
2-3 T Brown sugar
1 T white sugar
Teeny pinch of cinnamon
Filling
2 handfuls of caramel cubes
2 8oz bricks cream cheese, room temp
2 eggs room temp
1 T brown sugar
1 cup sugar
2 tsp vanilla
Pre-heat the oven to 375. Spray a 9-inch spring form pan with some non-stick spray and mix the graham cracker and gingersnap crumbs with the sugar and pinch of cinnamon in a medium bowl. Drizzle the melted butter into the crumb mixture and toss with a fork and your fingers until all the crumbs are moistened with butter. Dump the crust mixture into the spring form pan and use the back of a spoon or bottom of a measuring cup to press it as evenly as possible into place. Bake crust 8 minutes, then allow to cool while you melt the caramel.
In a microwave safe bowl, slowly melt the caramel at 40 % power in 30-45 second intervals in the microwave. Stir after each zap until it is melty and there are no chunks.
Slowly drizzle the caramel over the crust, you won't really be able to spread it cuz that will pull the crust apart, so just lightly drizzle it very slowly all over the bottom of the pan to get as even of coverage as possible. Let the caramel cool in the crust while you mix up the cheesecake filling.
In the bowl of a stand mixer, using the paddle attachment, mix cream cheese and sugar until light and fluffy add eggs one at a time and then the vanilla. Mix until completely smooth- scraping down the sides of the bowl and the bottom of the bowl once or twice to be sure you get any lumpiness outta there.
Pour the cheesecake mix over the caramel in the crust. Place a 9 x 13 pan half full of warm water on the bottom rack of the oven and the cheese cake right above it on the middle rack.
Bake at 400 for 55 minutes or until a cake tester comes out clean.
let cool then refrigerate at least 3 hours before serving. The caramel starts to melt right away when you slice this and serve it. DELICIOUS.