Nate and I are both Italian on our mother's side, and happen to really, really love Italian food. We make
HOMEMADE RAVIOLI
with his family every Easter, and love making homemade pasta and
LASAGNA
here at home when ever we can.
I recently received a copy of
Cucina Di Calabria
and I've been VERY excited try one of the recipes!
My mother's family comes from Calabria, which is in Southern (the "tip of the boot" to be exact)Italy. When I was working on the post for
BRACIOLA
I realized that both Nate and I grew up with Sunday Dinner. Every week, no matter what was going on, on Sunday the whole family gathers for togetherness and homemade dinner. There are so many things that make it hard for the whole family to get together for dinner; soccer practice, play rehearsal, board meetings, but not on Sunday. I am sure this is not just an Italian thing and that many families have this tradition, but it was something that as we've grown older and moved away from our parents, I'd not thought about it in a while.
SO...
I thought it would be fun to share this tradition with you by posting a great Sunday family dinner at least once every month!
This Sunday dinner is my first recipe from Cucina Di Calabria, for basic pasta. I was trying to keep dinner a little lighter, so I added some veggies and basil and served this with an easy, flavorful chicken.
Serves 6
Pasta
1 1/4 cup flour
2 egg
pinch of salt
Lightly dust a clean surface with flour. Pour out the 1 1/4 cups flour into a mountain and use the back of a 1/2 c measuring cup to create a crater in the top- making the flour look like a volcano/ Crack the eggs into the crater. Use fork and your well-floured fingers to mix in a bit..then use hands to fully incorporate egg into flour~ knead, knead, knead about 5 minutes....
Separate the dough into golf ball sized balls and let rest on a flour coated towel, lightly covered with another flour dusted towel about 10 minutes. Using a pasta roller, take one of the pasta golf balls and smash it flat with your hand, then feed it through largest setting on the pasta roller twice, then fold in half lengthwise, run through again, fold again lengthwise and run through again, then move to second largest setting and run through, fold and run through once more before moving to third largest setting- repeat until you are on the 5th setting, then run through 6 th setting once, don't fold and set the sheet of dough on floured cloth- repeat with all 6 golf balls of pasta- then run sheets through pasta slicer and dry on rack or floured cloth to dry until ready to fridge, freeze or boil.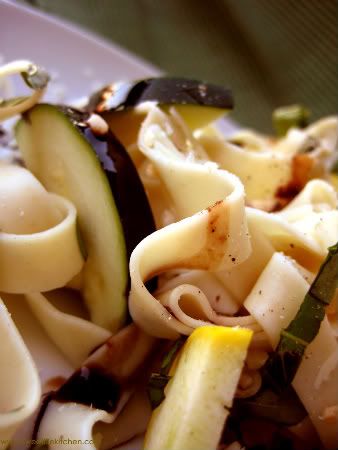 Wile the pasta dries, chop up and prepare the veggies~
1/2 yellow squash diced
1/2 zucchini diced
1 T garlic, minced
2-3 T fresh Basil, chopped
Salt, pepper
Balsamic drizzle
Parmesan & Romano
Set veggies aside and make the chicken.
While you make the chicken, put on 8 cups of water to bring to a boil for the pasta.
Chicken
6 chicken breasts
Juice of one lemon
1 T garlic
2 T olive oil + more for cooking
2 T balsamic vinegar
Salt & pepper
Rinse 6 chicken breasts and pat dry. Lightly sprinkle with salt and pepper and place in a shallow dish. In a small bowl mix the lemon juice, garlic, 2 T oil and 2 T balsamic and whisk until combined.
Pour the lemon juice mix over the chicken and let stand 5 minutes.
Heat enough olive oil to cover the bottom of a large skillet, then add chicken.
Cook chicken about 7 seconds each side.
Meanwhile when the 8 cups of water comes to a boil, add the pasta and boil about 8 minutes.
When the chicken is cooked through and golden on both sides, remove from heat and set aside.
Drain pasta. Place drained pasta in a large bowl and toss in the squash, zucchini, garlic and basil.
Add a serving of pasta with zucchini, squash, garlic and basil to each plate, drizzle balsamic over the pasta and sprinkle with Romano and Parmesan cheese, serve with chicken cut up on top or on the side.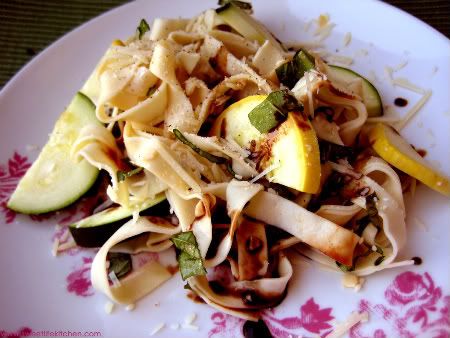 MENU:
KELLE SALAD
CALABRESE PASTA
MINI CHOCOLATE MOLTEN CAKES
!!!
~Happy Sunday~