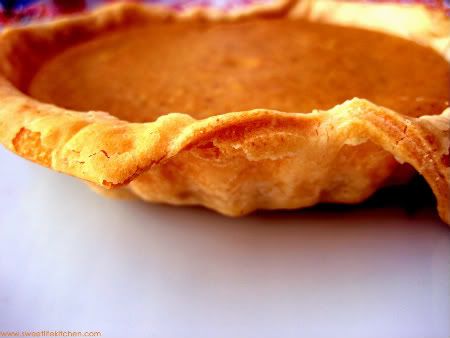 Well, it's about time! This is the first pumpkin recipe I've posted this season and it's darn near Halloween already!!
I have been pretty swamped at work, holiday time = busy jewelry bees. I had the pleasure of career coaching down at G.I.A. last Friday and as I enjoyed a gorgeous day by the Pacific Ocean in Carlsbad, glowing in the 85+ degree heat, I actually found myself thinking about Fall...no, really! We got a wee little peek at Fall earlier last week, with some yummy, rainy weather, but it only lasted a moment. In hopes of some cooler temperatures I'm sharing this very easy Pumpkin Cheesecake Pie recipe to help lure the Fall back to L.A.
With some major tailgating ahead this Saturday, it'd be fun to get out the hoodies & jeans for this game!! C'mon Fall!!
I used 4 mini-tart pans for this recipe, but it would also work in a regular 8" diameter pyrex pie dish.
2 prepared 9 inch pie crust (you'll need about 1 1/2 for the 4 mini tarts and 1 crust if you are going with the 8 inch pie)
1 8oz brick of cream cheese softened
1 egg
1/2 cup sugar
2 T brown sugar
1/2 15 oz can pumpkin
1/4 heaping tsp cloves
1/4 tsp. nutmeg
1/2 tsp. ginger
1/2 tsp. cinnamon
1/2 tsp vanilla
Pre heat oven to 400 and line 4 mini tart pans or single pie place with prepared pie crust. Butter a piece or pieces of foil and, press, buttered side down into the crust. Bake 8 minutes at 400 remove foil, and bake another 5 minutes. Reduce heat to 350.
To make filling, mix cream cheese and sugar in the bowl of a stand mixer using the paddle attachment until fluffy. Add the vanilla, then spices then pumpkin. Until all ingredients are well combined. Fill a separate pyrex with a few inches of water and place on the bottom rack.
Fill each mini pie or the single pie plate 4/5 full bake on the middle rack about 30 min for the minis and about 45 minutes for a regular sized pie or until butter knife comes out clean.
More pumpkin recipes (and hopefully FALL WEATHER to come...)