These are my go-to un-buffalo-wing. They are fabulous for football watching afternoons, tailgates and any kind of party, really. They are baked, not fried and could not be easier to make.
I made these for a tailgate before a USC game- I baked them in a disposable roasting pan, then transferred them to a cool clean roasting pan- covered in foil to transport to the game!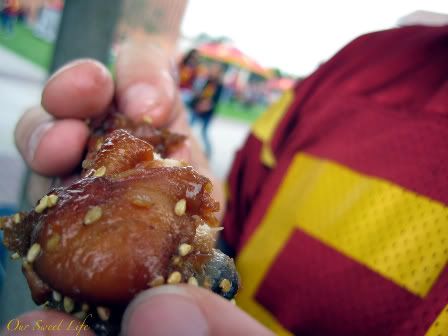 Wings~
About 3-4 lbs Chicken Wings, cut in half~ tips cut off
Marinade/ Sauce~
1/2 C low sodium soy sauce
1/2 C water
1/2 C sugar
1/2 tsp garlic powder
1 C rice vinegar
3 T grated fresh ginger
3 T Garlic Chili Paste
3 T chopped green onion
2 T toasted sesame seeds
Place prepared wings in Ziploc bag and pour half of sauce into bag, reserve other 1/2(about 1 cup) Marinate 2 hours or more in the refrigerator.
Spray a foil lined roasting pan with non-stick spray. Lay wings in the pan pour the sauce from Ziploc into pan. Cook at 350 for 40 - 45 minutes on one side basting frequently, flip over and bake/ baste an additional 25 minutes. Turn off oven let sit 10 minutes. Boil remaining sauce 6-8 minutes on high and reduce heat to thicken… pour thickened sauce and sprinkle toasted sesame seeds & serve.