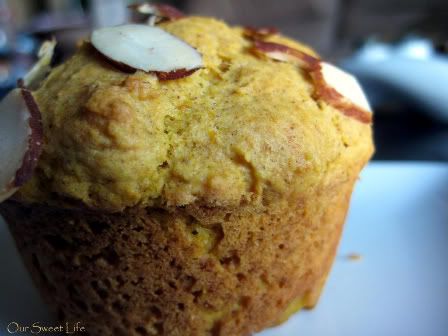 Well, we now know Nate loves a muffin with raisins in it...and we know that because I went right ahead and left the raisins OUT of these puppies. I really do not like raisins. Now, I could have subbed crazins, or dried tart cherries or some other chopped up dried fruit like figs or something...and honestly when I set out to bake these I meant to put something like that in there, and nuts too, but I got distracted and was doing too many things at once (that's new) and totally spaced out on adding anything but the pumpkin and yummy spices.
Other than that, I pretty much stuck to to the recipe on this weeks
TUESDAYS WITH DORIE
, chosen by KELLY of
SOUNDING MY BARBARIC GULP
. I was excited to see the Pumpkin Muffins as this really kicked off the fall-baking around here... they smelled AMAZING while they baked! Check out this awesome recipe on Kelly's blog and the stunning variations of all the TWD bakers this week over on the blogroll.
I decided to share this recipe with a friend for her bridal shower...which was fun, the hostess requested each guest bring a recipe- so I brought this one and also brought the muffins. I baked them in my muffin tin, then after they cooled, I placed them in lil'foil muffin cups and set them in a new tin that was part of the shower gift & wrapped that with a bow! It was a fun idea that I will definitely repeat.