While I do not have the beset photos of this delicious cake that I actually made back in April, I will say the only reason I didn't make it AGAIN to re-shoot, was because it was so delicious and we didn't have anyone coming over this weekend to help eat it, I knew I'd eat the whole thing...it's that good.
I was excited to see that Tammy of
WEE TREATS BY TAMMY
chose Caramel-Peanut Topped Brownie Cake for this weeks
TUESDAYS WITH DORIE
because I loved this recipe and had to make it this past spring, but was saving it to post when it was picked...
April and March are chock full of Birthdays in our lives! Mine is March 16, then my sister-in-law's is March 31st, then my mom's is April 2nd, and Nate's is April 10th!!
So this cake was made to celebrate all of our birthdays this year!
It starts out with a super rich chocolate brownie-like cake...
Then comes homemade caramel sauce!!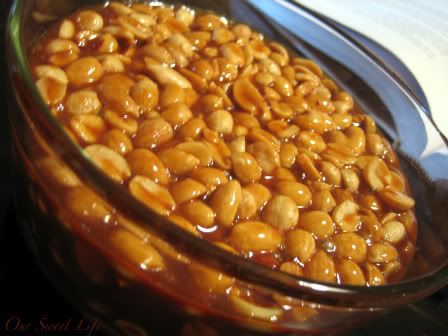 The first time I saw (a much better photo than mine) this cake was on
Peabody's Blog
when she made it and I had been dying to make it! It brings together so many of my favorite things!
Head on over to the
TUESDAYS WITH DORIE
site to learn more about Tammy and visit all the beautiful TWD Cakes!!