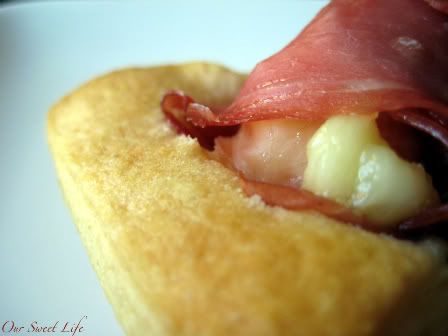 These were super easy, just a wee few ingredients~
1 container of Pillsbury Recipe Creations
1 triangle of Brie cheese
about 1/4 lb thin cut prosciutto
Grease a mini muffin tin and pre-heat the oven to 350.
Cut the Recipe Creations into 1 1/2 inch x 1 1/2 inch squares.
Cut the brie into little squares also, and wrap a bit of prosciutto around each piece of cheese.
Gently press the squares of recipe creations into the muffin tin, place a prosciutto wrapped brie into the center and bake about 20 minutes until the dough is golden brown. UBER EASY APPS! YAY!!