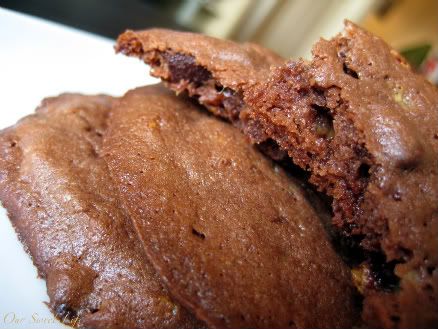 I'm going to post this one ON TIME, so as not to continue getting more and more behind! This weeks selection for
TUESDAYS WITH DORIE
comes from Rachel of
Confessions of a Tangerine Tart
. When I saw the title of the recipe she chose, my jaw dropped. This sounded INCREDIBLE!
I can safely say I've never made a cookie with Whoppers in it, or using Malted Milk powder...I don't think I perfected this recipe this time around, I need to make it another time or two to figure out a few things. My cookies came out a bit flatter than I had hoped, and am not sure why...The photo in Dorie's book is stunning and they are big, thick, fat cookies. So, I'll try these again soon after I visit all the other TWD'er's blogs and get an idea of what I may have done to have big flat pancakey whopper cookies. They were DELICIOUS flat Whopper cookies, so that was good news.
Head on over to Rachel's blog to get the recipe and check out the TWD Blogroll for more awesome Malted Drops! I'll be right back with belated TWD editions (Blueberry Sour Cream Ice Cream and Granola Grabbers! New computer in full effect!)...