This was my first time making homemade ice cream~ I've made a
SEMIFREDDO
, which is similar, but this was real-deal ice cream. I always thought this would be totally impossible because I don't have an ice cream maker and I was not going to sit on my kitchen floor and roll a jar in a jar with ice and salt and god knows what else was going to be involved. (that was my speculation before actually doing any research into ice cream making.)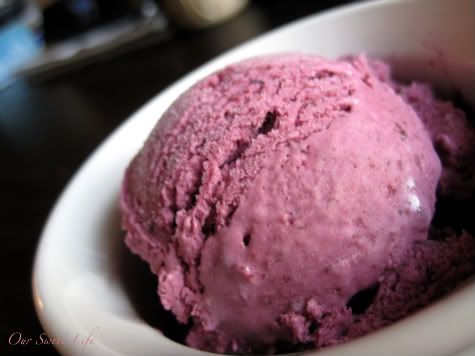 This recipe was the August 12, 2008
TUESDAYS WITH DORIE
selection. This ice cream recipe was chosen by Dolores of
Chronicles in Culinary Curiosity
. I was so glad, because I thought it'd be the perfect excuse to buy the ice cream maker attachment for my Kitchen Aid Mixer...even though I have no idea where I would store it when not in use, we're tight on space! Then I read that there were several alternative methods to making ice cream for those who don't have an ice cream maker.
I decided to use THIS method by
DAVID LEBOVITZ
, which I am thrilled with and love having a WHOLE new genre of desert to start getting creative with (with out buying a new toy that I have no room for).
Now, this is a VERY late TWD posting, as you may have noticed I am still doing catch-up from JULY :P, but I figure it's better late than never, as I'm still baking along every week and hope to be all caught up very soon! (That's another great thing about having my new laptop and it being football season!)