Gooey dulce de leche filling combined with intense chocolate cake, frosted with a combo of Cool Whip and cream cheese, topped with mini chocolate chips and toffee bits. Really, that can not NOT be delicious, right?! Right. It's awesome!!
This is the marriage of two pretty famous recipes that is truly exceptional. I first made this back in 2007 for Naomi's birthday, and per Shayne's request, made it for her b-day party...
Shayne's Perfectly Chocolatey Birthday Best Cake Ever.
Serves 12
2 C. Sugar
1 3/4 C. Flour
3/4 C. Hershey's Cocoa Powder
1 1/2 tsp. Baking Powder
1 1/2 tsp. Baking Soda
1 tsp. Salt
2 Eggs
1 C. Milk
1/2 C. Oil
2 tsp. Vanilla
1 C. Cup Boiling Water
1 Can Sweetened Condensed Milk
1 Jar of Caramel (Ice Cream Topping)
1 container of Cool Whip & 8oz softened cream cheese for frosting
1 C. Heath Toffee Bits & Mini Chocolate Chips for topping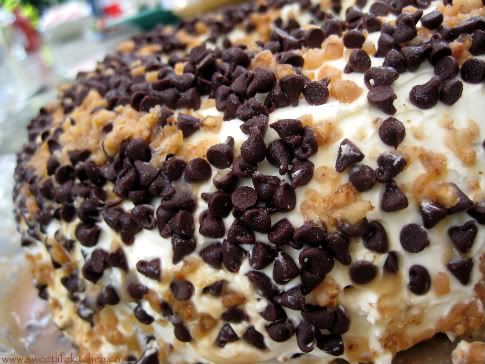 Prepare a 15 cup bundt pan by spraying with baking spray (with flour).
Pre-heat oven to 350, and sift together the sugar, flour, cocoa powder, baking powder, baking soda and salt. Mix in eggs one at a time, add milk, oil, vanilla, mix well. Add Boiling water and mix. Pour into prepared pan and bake at 350 for 50-55 minutes or until cake tester comes out clean. Cool 15 minutes in the pan, then cool 10 minutes on wire wrack- transfer to plate covered in wax paper.
Mix milk and caramel in a bowl.
Using a straw poke holes evenly spaced in the cake and using a spoon fill the holes and pour over the cake until it soaks in, I usually don't quite use it all...about 3/4 of the mix does the trick..then, let the cake cool completely.
In a large bowl combine softened cream cheese and thawed Cool Whip, & frost cake, top with Heath toffee bits & mini chocolate chips!