Key lime anything makes me feel like summer all over. It's fresca and yummy and tart and I LOVE IT!! Instead of going full-on pie with whip cream, etc...I thought of how delish this filling would be topped with sugar-tumbled blackberries. Yup, it rocked.
I don't know if just assembling what is pretty much a key lime pie in a tart pan is what makes it a tart, but in this case, it does for me! I highly recommend you try this ASAP~ it's a perfect summery desert, especially after dinner featuring a GLORIOUS SALAD and grilled goodness!!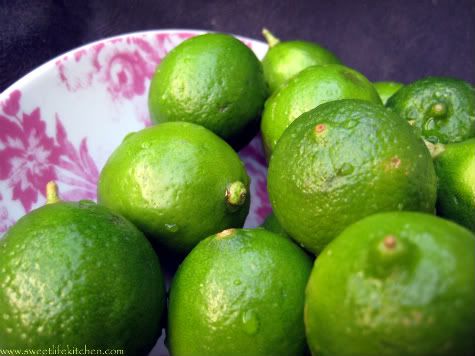 Serves 12-14
20-30 key limes (about 3/4 c juice)
1 1/2 T zest
2 cans sweetened condensed milk
1/2 cup sour cream
2 tsp sugar
1 1/4 c crushed graham cracker
1/2 stick butter, melted
2 T sugar 1 T brown sugar
2 pt fresh black berries
1 key lime for garnish
Preheat oven to 350-degrees. Grease a tart pan and , mix the crumbs, sugars and butter in a bowl, evenly moistening the crumbs and sugar. Press the graham cracker crust into the tart pan & bake 8 minutes...let cool. You can also just buy a crust, but I like a super thick crust and it always tastes best when you make it fresh!!
Mix the lime juice, sweetened condensed milk, lime zest, sour cream and sugar in a medium bowl with a hand mixer (or stand mixer with whisk attachment).
Pour key lime filling into cooled pie crust. Bake at 350 for about 8 minutes, but don't let the top brown at all. Cool to room temp, then place some plastic wrap over the top so it doesn't form a skin, refrigerate for 1-2 hours or until chilled thoroughly.
Toss the blackberries with a few teaspoons of sugar in a medium bowl, and pour over chilled tart.